Cinema Paradiso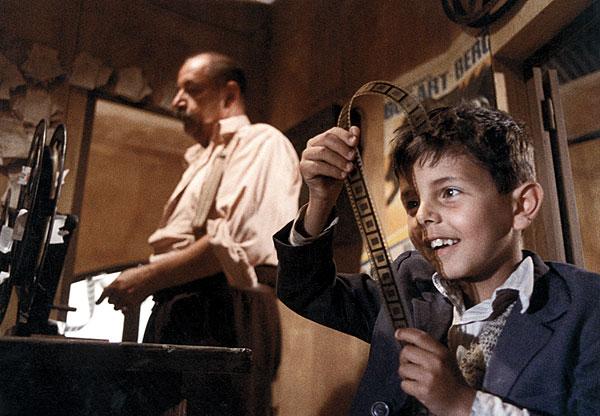 A restoration was undertaken by Arrow exclusively for this edition from the original 35mm camera negatives and scanned at 2K resolution at Technicolor Rome. All grading and restoration work was completed at Deluxe Digital Cinema-EMEA, London. The Blu-ray is in its original 1.66:1 framing with an AVC 1080p encodement. It's been previously available on Blu-ray from Miramax/Lionsgate, but this Arrow edition is a big improvement, with more natural colors, a crisper layer of grain, deeper blacks, and more detail in the shadows. It's also cleaner overall.
Cinema Paradiso comes with its original Italian monaural mix in LPCM 1.0 (Theatrical Cut), an Italian LPCM 2.0 stereo mix (Director's Cut), and Italian DTS-HD Master Audio 5.1 mix (Theatrical & Director's Cut). All three sound clear an ambient. The stereo mix has wide panning and good dynamic range, but it is the 5.1 mix that really allows the effects and the score to breathe with lush reverberation.
We get a beautifully packaged set for Cinema Paradiso that includes a collector's booklet (first pressing only) illustrated with archive stills, behind-the-scenes images, and posters. There's an intelligently narrated and detailed audio commentary from Italian cinema expert Millicent Marcus. Also of interest is the 52-minute documentary A Dream of Sicily, an in-depth profile of the director.
Blu-Ray
Studio: Arrow Academy, 1988
Aspect Ratio: 1.66:1
Audio Format: DTS-HD Master Audio 5.1
Length: 124 mins. (Theatrical Cut); 174 mins. (Director's Cut)
MPAA Rating: R
Director: Giuseppe Tornatore
Starring: Philippe Noiret, Enzo Cannavale, Antonella Attili
The entertainment glitterati love a work that glorifies the history and existence of themselves. Just look at the praise lavished upon such films like the neo-silent The Artist or the arguably overrated La La Land to get a sense of how much Hollywood is willing to revel in its own nostalgia. Writer/director Giuseppe Tornatore's 1988 semiautobiographical paean to the films that framed his coming of age in Southern Italy revolving around the titular Cinema Paradiso movie theater is a prime example of such a work. It's also a masterful love letter to the Golden Age of "Hollywoodland." Tornatore's at times sentimental film utilizes clips of classic American and European films to help tell the tale of the artistic and sexual awakening of Toto as he grows from childhood to adulthood under the tutelage of the theater's projectionist Alfredo. A romantic score by Ennio Morricone helps set the mood. Ten years after its initial run, Tornatore brought a Director's Cut to America that adds 50 minutes and answers the film's key subplot about Toto and his first love Elena. Cinema Paradiso won the 1988 Academy Award for Best Foreign Language Film.