The Chronicles of Narnia: Prince Caspian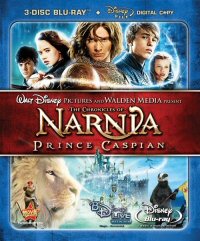 The Pevensie children—Peter (William Moseley), Edmund (Skandar Keynes), Susan (Anna Popplewell), and Lucy (Georgie Henley)—face a perilous mission and a greater-than-ever test of their faith and courage. Thirteen hundred years of Narnia time have passed since their last visit, but only one year in their normal reality. Although the White Witch (Tilda Swinton) is gone, making only a brief appearance in the movie, the realm is ruled by a cruel tyrant, King Miraz (Sergio Castellitto), and Aslan (voiced by Liam Neeson) has been missing for over a thousand years. With the help of Prince Caspian (Ben Barnes), the four children embark on a journey to find Aslan and restore magic and glory to the land.
Much like the first installment, this Narnia is a visual spectacle with elaborate CGI effects that bring the magical world to life. Unfortunately, it's laborious to watch due to a bloated runtime of two and a half hours, and character development is virtually nonexistent, making it difficult to root for the apparent good guys. The one bright spot is Georgie Henley, who once again steals the show in her role as Lucy.
One area in which this sequel hasn't fallen short is the video encode, which is a demo-worthy effort. Colors are rich and lush in the magical world of Narnia, with inky blacks and zero compression issues. Resolution is mostly razor sharp, although the CGI-intensive scenes are softer compared with the live-action shots. Nighttime sequences have extraordinary shadow detail in this superb presentation.
The DTS-HD MA 7.1 soundtrack is nearly on par with the reference PCM track from the first film. Dynamics are extremely strong throughout with crisp highs and deep, earth-shaking bass. An immersive 360-degree soundfield accompanies virtually every action scene, beginning with the children's journey back to Narnia as the subway station transforms before their eyes into a majestic beach-front vista. Unfortunately, the surround channels are silent at times, especially during dialog-intensive scenes, providing little-to-no atmospheric ambience. Additionally, the dialog becomes slightly unintelligible during the battle sequences—and these scenes occupy most of the film.
The three-disc set is loaded with bonus features. Disc one offers an audio commentary with director Andrew Adamson and a few of the actors. Also included is "Circle-Vision Interactive: Creating the Castle Raid," a BD-Java feature that takes a few minutes to load and provides an in-depth look at the castle-raid sequence. Rounding things out on the first disc are some theatrical trailers and access to Disney's BD-Live network, which yielded an error message when I tried to access it.
Disc 2 is a BD25 loaded with additional HD supplements that include eight behind-the-scenes featurettes on the production as well as 10 deleted scenes and some bloopers with a combined runtime of over two hours. The third disc contains a digital copy of the feature for use in a computer or portable media device.
Marred by a bloated screenplay and poor character development, Prince Caspian's is beautiful to look at with stunning locations from around the globe, and it has an encompassing soundtrack. However, these elements cannot save this otherwise flawed film. Even my pre-teen kids thought the battle scenes occupied too much screen time and were wondering when it would finally end.
Release Date: December 2, 2008
Movie: 5/10
Picture: 9/10
Sound: 9/10

Review System
Source
Panasonic DMP-BD55

Display
JVC DLA-RS1 projector
Stewart FireHawk screen (76.5" wide, 16:9)
Electronics
Onkyo Pro 85 pre/pro
Anthem PVA-7 Amplifier
Belkin PF60 power conditioner
Speakers
M&K S-150s (L, C, R)
M&K SS-150s (LS, RS, SBL, SBR)
SVS PC-Ultra subwoofer
Cables
Monoprice HDMI cables (source to pre/pro)
Best Deal analog-audio cables
PureLink HDC Fiber Optic HDMI Cable System (15 meters) from pre/pro to projector
LATEST VIDEO