Channel Master TV CM-7400 Over-The-Air HD DVR
Price
: $400
At A Glance
: Effective, free alternative to cable or satellite • Vudu streaming • Runs hot!
In this day of dozens of HDTV channels delivered via hardwired cable or satellite transmission, it's hard to remember that watching TV wasn't always quite so easy. Way back when, every television had an antenna connected to it. If you were distant from the transmission tower, you might have had a big mast antenna on your roof, as did your next-door neighbor, and his next-door neighbor, and so on, until the suburban skyline came to be defined by these skeletal sculptures reaching into the bright dawn of a soaring postwar America. If you lived a little closer to the tower, you probably just used the telescopic rabbit ears poking up from the back or top of every set, and the ritual of changing channels (to another of the seven or eight available) involved walking across the room, manually clicking the TV's rotary tuning knob, and then reorienting the antenna arms to minimize the distortion. Even then, it didn't always work. Depending on conditions, it wasn't uncommon to get snowy artifacts from a weak signal, or ghosting caused by multipath reception as the signal bounced off nearby buildings or other large objects.
Yet, with all its foibles, there was something awesome to be said for watching TV during the golden age of terrestrial broadcast—that is, besides The Honeymooners and I Love Lucy: it was free. So it's not surprising that, in these hard times, Channel Master, a company that's been selling TV antennas since its founding in 1949, would be spearheading an effort to bring back terrestrial reception and educate consumers about taking advantage of today's robust digital broadcasts.
Terrestrial digital is not without its own issues—the snow and ghosts of yesteryear have been replaced with block artifacts, sputtering, and frozen screens. But if you can capture a reasonably powerful signal, you'll minimize these problems and enjoy reliable, even spectacular, HDTV pictures from your local broadcasters. Thanks to the typically higher bit rate of terrestrial signals, over-air image quality can exceed that of compressed cable TV (especially during peak viewing hours when cable networks face high demand). You'll still need to get Internet service from somewhere, and you'll be boxed out of dedicated cable-TV fare. But if you're the type who can live without real-time viewing of the newly resurrected Mad Men, Weeds, or ESPN, you can cut your monthly nut considerably by going off-air. (Visit antennaweb.org to plug in your address and determine the viability of off-air capture from your home.)
A DVR For the Ages
The Channel Master CM-7400, dubbed Channel Master TV, is the company's latest attempt to bring the modern-day amenities of a digital video recorder (DVR) to the off-air broadcast equation. It's not Channel Master's first foray here—the earlier CM-7000PAL offered some rudimentary capabilities and gathered a following among off-air enthusiasts, many of whom were anxious to try the CM-7400 after it's announcement at last September's CEDIA Expo. The unit was eventually released in December.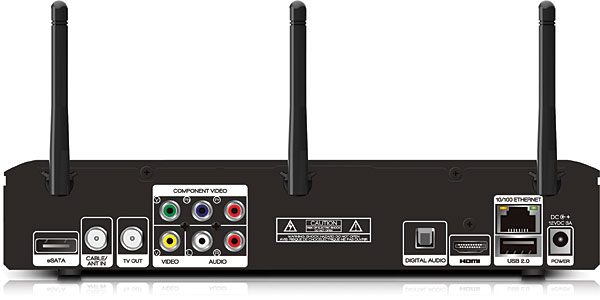 Featurewise, the CM-7400 tells a pretty compelling story. At its heart, it's a two-tuner DVR that allows the simultaneous recording of two shows while you view another from the built-in 320 GB hard drive; alternately, you can record a show you're watching while you simultaneously record another. The drive can store up to 35 hours of high-definition programming or 150 hours of standard definition. An eSATA port is thoughtfully included on the back panel to eventually allow expansion of the storage with an ancillary drive. Shows can be captured via an off-air antenna or a Clear QAM digital-cable signal. Though I'd guess most purchasers of the CM-7400 will be hoping to fully eliminate their pay-TV service, Clear QAM compatability is there for people who wish or need to keep basic cable, but want the advantages of a full-fledged DVR, program guide, and some of the CM-7400's other interesting features without renting a set-top box from their provider.
Among those other features is a built-in, but relatively limited, streaming platform provided under the banner of Vudu Apps. The main attraction here is the pay-per-play Vudu movie and television service that's favored by many of us at Home Theater for its exceptional HD video quality (at least by streaming standards), multichannel Dolby Digital soundtracks, and the availability of many titles day and date with the disc release. Beyond Vudu, apps are provided for social media and photo sharing sites like Facebook, Twitter, Picasa, and Flickr; and a bunch of TV-show, news, weather, and special-interest podcast services. There's a decent amount of stuff to explore, though not much in high def, and Netflix and Hulu fans can look elsewhere. Heavy streamers will find the offerings badly wanting compared with the best of today's Smart TVs and Blu-ray players.
The apps, as well as the premium program guide (more on that below), are accessed via a wired Ethernet connection to your home network or the CM-7400's built-in 802.11b/g/n Wi-Fi that's facilitated with three adjustable shorty antennas poking up from the back panel. Wi-Fi performance proved surprisingly robust in my tests on the two different 802.11g networks I tried—though in both cases, the source router was situated in an adjoining room only about 30 feet away. Still, there was scant incidence of buffering while watching 1080p HDX streams on Vudu, and picture quality was excellent from beginning to end with no stuttering, block artifacts, or distracting mosquito noise.
Two USB ports—one on the front panel and one on the back—allow connection of a flash or other USB drive to play personal media files or store them on the CM-7400's hard drive to access later. You can play several of the popular photo, video, and music file types—including iTunes-friendly AAC—but none of the common lossless formats like Apple Lossless or FLAC are supported, and the USB port is not the iOS-compatible type that will recognize your iDevice. File navigation is via a basic drill-down, folder-style interface with no thumbnails to assist you, though it does allow searching a music library placed on the drive by genre, album, or artist if the metadata is imbedded in your files. You can also create playlists and do photo slideshows against your own music. DLNA compliance to allow you to pull personal files directly off your home network is said to be supported, but not yet active in firmware.
With watching and recording off-air shows the primary function here, the onscreen program guide is a key feature. Channel Master offers a choice of two. The unit comes with a Basic guide populated by data imbedded in the digital-transmission signals sent by the broadcasters. There is no cost for this, and calling up the guide will likely show you what's on only some of the channels from the present to perhaps two days in the future. Unfortunately, not every broadcaster sends this information, and what they send tends to be rather sparse. Also, the inability to peek even a week ahead can be limiting.
That said, you'll likely want the Premium program guide, which is aggregated by a third-party service that downloads the information to your unit by its broadband Internet connection. It captures two weeks of advance programming and identifies which are in HD right in the grid. It also gives more information for each broadcast (including details such as the director, writers, and producers of movies, as well as the actors), and it allows searching by genre, person, or keyword(s). But while the Premium guide offers real value compared with the Basic, it's a subscription service that must be purchased annually through the Channel Master Website for $50 a year. That won't leave a great taste after swallowing the $400 cost of the CM-7400, although if you think of it as about a buck a week that might seem more palatable.
The Wonderful Wizard
Out of the box and through the initial setup, the CM-7400 made a good first impression. Measuring just 10 inches wide by 7 inches deep and 1.75 inches tall, it's notably more compact than most DVRs today, and it feels sturdy. It has a tightly built metal cabinet that doesn't rattle or ring when you rap it, a nice black powdercoat finish around the top and sides, and a molded front panel with a rounded top and corners that give the unit a modern, attractive look. There's a recessed Power button on the left that gives off a subtle, but sure, click when you tap it; a clock display that reads REC during recording (it's dimmable, but can't be extinguished); and flush, touch-sensitive buttons that mimic the Back, Menu, and navigation buttons on the remote. Three small, pinpoint LED indicators tell you when there's a live home-network connection, when the unit is recording, and when it's playing high-definition video. The front USB port is smartly placed at the top of the front panel where it's more easily accessed than at the bottom, the place it often appears on other components.