CES Unveiled Offers a Peek at January's Big Show
At the annual CES Unveiled event in New York City last night a few dozen companies offered a glimpse of products they plan to show at CES in early January. Here are a few that caught our eye…
SWEET, SWEET OLED LG trotted out a pre-production version of its 77-inch Ultra HD OLED to show off its stunning picture. And it was stunning… No word yet on how much it will cost and when it will be available but it's safe to assume that it will carry a hefty price tag considering LG's 55-inch 55EA9800 OLED TV is 10 grand (down from the original $15,000).
WOOFER PANCAKE Prescient Audio says the ThinDriver technology it has been refining for the past five years is now ready for prime time and should find its way into a finished subwoofer in the future, although they didn't say when and under what brand. CEO Paul Niedermann described the $1,000 TD-12 woofer he's holding above as the thinnest, lightest and coolest running driver on the market. The 2.25-inch-thick driver is rated to handle 1,000 watts of continuous power and has a mammoth 8-inch voice coil. A full list of specs is available here.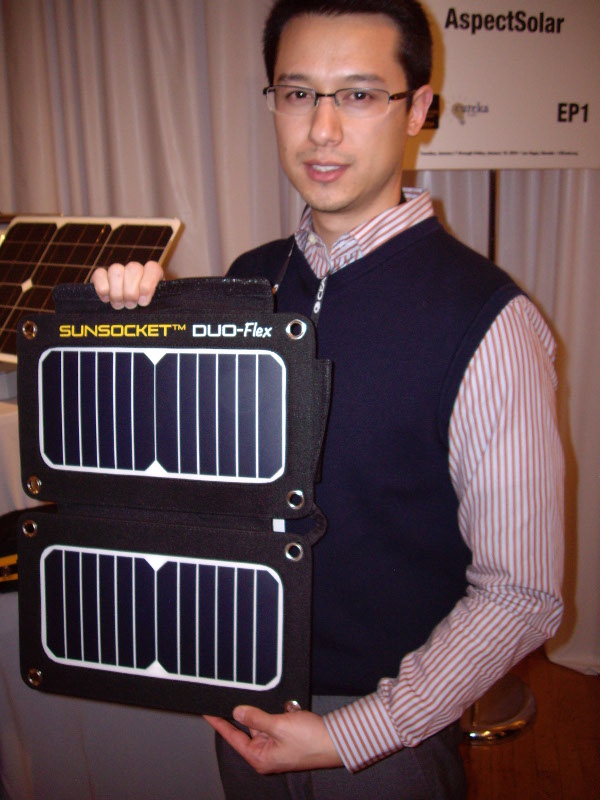 SOLAR TO GO Aspect solar will start selling the SunSocket portable generator ($199) in the coming weeks. The unit is lightweight, flexible and includes a long-life battery good for three to six iPhone charges, according to Andrew Goei, director of sales and marketing.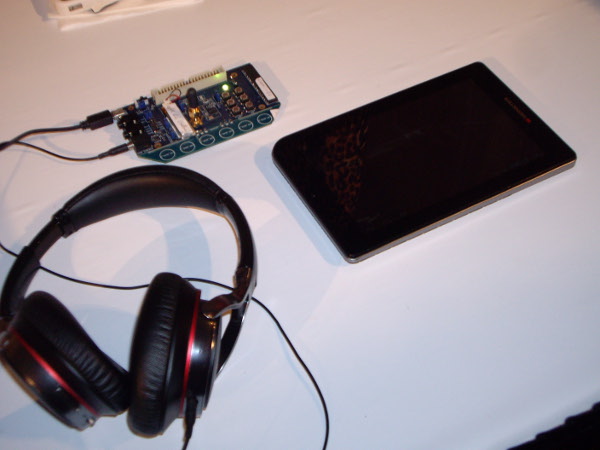 GUNS AND CODECS CSR used the Frankenstein switcher shown above for an A/B demo that pitted its aptX codec against the standard SBC codec used in the Bluetooth wireless audio standard. A video running on an iPad showed a gun being fired. When SBC was cued up, there was a noticeable delay between when smoke appeared at the barrel and the shot was heard. By comparison, aptX's "less than 40 ms delay" was imperceptible. More detail is available here.
TIVO POWER The DVR innovator showed its TiVo Roamio Pro box that records up to six shows at once and stores up to 450 hours of high-def video on its 3-terabyte drive. The box makes cable and popular streaming apps searchable via one remote and supports downloading and streaming to iOS devices. Price: $600 plus a $14.99 monthly subscription fee.
POLAROID FOREVER In 2008, the Impossible Group of Berlin acquired the last factory manufacturing Polaroid instant film and began refurbishing Polaroid cameras in addition to designing new analog instant cameras. Last night, the company demonstrated the Impossible Instant Lab ($299), which transforms digital images stored on an iPhone or iPod Touch into a Polaroid photo. Place the phone or player on the Lab and it spits out a print in seconds. Impossible also maintains a U.S. headquarters in New York City, which includes a combined retail, education and exhibition space. The address is 425 Broadway.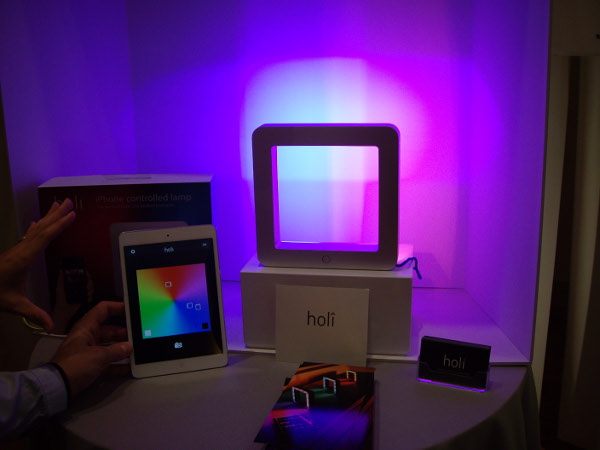 HIGH-TECH LAVA LAMP The Holi smart lamp ($199) uses 18 individually controlled LEDs to create different moods or a light show that dances along with the beat of music. The lamp, which is said to produce more light than a 40-watt bulb, consumes only 10 watts and is controlled is by an app that changes the intensity and hue of the light in real time as you move your finger around the screen. An unlimited combination of colors is said to be possible. The app is designed for Apple devices but an Android app is coming early next year.
LATEST VIDEO