CEDIA Shares Expertise on HDMI 2.1 in 2 White Papers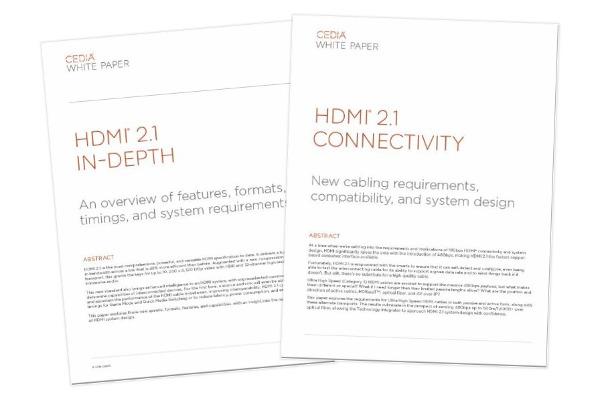 CEDIA
, the Indianapolis-based trade association that represents companies involved in the design, manufacture, and installation of connected home technology, has released two white papers on
HDMI 2.1
— one focusing on the features and capabilities of the upgraded spec, the other on passive and active cable requirements for ultra-high-speed connectivity.
Developed by CEDIA's director of technical content, David Meyer, both documents include a glossary of terms and use graphics and charts to help distill and illustrate key points.
The 19-page "HDMI 2.1 In-Depth" explores the newest HDMI format in detail and includes an appendix that lists HDMI 2.1 data rates at various bit depths and frame rates for standard definition (SD), high definition (HD), and 4K/Ultra HD video formats.
Introducing the paper, Meyer writes:
HDMI 2.1 is the most comprehensive, powerful, and versatile HDMI specification to date. It delivers a huge increase in bandwidth across a link that is 48 percent more efficient than before. Augmented with a new compression video transport, this grants the keys for up to 10, 240 x 4,320 120p video with HDR and 32-channel high resolution immersive audio.

This new standard also brings enhanced intelligence to an HDMI system, with unprecedented communications to determine capabilities of interconnected devices. For the first time, a source and sink will even be able to measure and ascertain the performance of the HDMI cable in-between, improving interoperability. HDMI 2.1 can auto-adjust timings for Game Mode and Quick Media Switching or to reduce latency, power consumption, and emissions.

This paper explores these new speeds, formats, features, and capabilities, with an insight into the next generation of HDMI system design.
The second, companion paper, "HDMI 2.1 Connectivity," explores the requirements for Ultra High Speed HDMI cables in both passive and active form over 16 pages and includes an appendix that lists maximum resolution and frame rates for compressed and uncompressed video at different bit depths.
Summarizing the paper, Meyer writes:
At a time when we're settling into the requirements and implications of 18Gbps HDMI connectivity and system design, HDMI significantly raises the ante with the introduction of 48Gbps, making HDMI 2.1 the fastest copper-based consumer interface available.

Fortunately, HDMI 2.1 is empowered with the smarts to ensure that it can self-detect and configure, even being able to test the interconnecting cable for its ability to support a given data rate and to wind things back if it doesn't. But still, there's no substitute for a high-quality cable.

Ultra High Speed (Category 3) HDMI cables are assured to support the massive 48Gbps payload, but what makes them different or special? What if I need longer than their limited passive lengths allow? What are the position and direction of active cables, HDBaseTTM, optical fiber, and AV-over-IP?

This paper explores the requirements for Ultra High Speed HDMI cables in both passive and active form, along with these alternate transports. The results culminate in the prospect of sending 48Gbps up to 500m/1,600ft+ over optical fiber, allowing the Technology Integrator to approach HDMI 2.1 system design with confidence.
"In CEDIA's newly released three-year strategic plan, we have put a great focus on creating standards, developing best practices, and defining guidelines to elevate professionalism and drive member and industry success," said Tabatha O'Connor, CEDIA global president and CEO. "Being able to produce white papers like this ensures that CEDIA members have the tools they need to adapt to the latest technologies and deploy those technologies for their clients."
Meyer added: "It is incredibly important for members to understand this new standard as it will affect the systems they design and implement on a day-to-day basis. Most people don't get to see the HDMI specification document, and even if they do it's exhaustively complex. These papers distill what's important to the CEDIA community and make it as easy to understand as possible."
"HDMI 2.1 In-Depth" and "HDMI 2.1 Connectivity" are available for download to CEDIA members at no cost and to non-members for $99 each. For more information, visit cedia.net.