CEDIA 2010: A Golden Oasis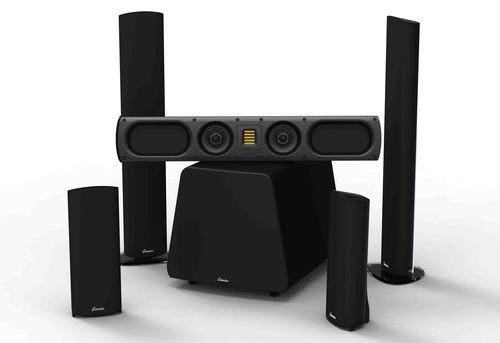 Wander down to the far end of CEDIA's long exhibit hall and you'll find a closed-door booth emblazoned with an unfamiliar company name: GoldenEar Technology. Enter that booth, and you'll see legendary speaker-guy Sandy Gross showing off his latest creation, the Triton Two towers. The Triton Two, the first product to emerge from the new company, is actually the handiwork of a team that's been around the speaker game for decades. Needless to say, these guys know good sound.
I had seen the Triton Two in prototype form at CES, and was intrigued by its slender, sloped design. But now I had a chance to hear it. Despite the booming of subs from surrounding exhibits, the GoldenEar towers cut through with a bold, rich sound that was distinguished by its airy top-end. Maybe all the fancy electronics Sandy had hooked up had something to do with it, but I suspect that these speakers are just really, really good. I can't say that I heard any better sound at CEDIA 2010.
Along with the Triton Two Tower ($1,249/each),  GoldenEar Tech's lineup consists of the SuperSat 50 ($499 ea.) and SuperSat 3 ($249 ea.) speakers, both of which can be deployed as either compact monitors or surrounds. (Center-channel versions of both speakers are also available.)  Rounding out the range is the ForceField 3 ($499 ea.) and 4 ($699 ea.) subs. Be on the lookout for all speakers to land in October.
—Al Griffin
LATEST VIDEO