Catch Me If You Can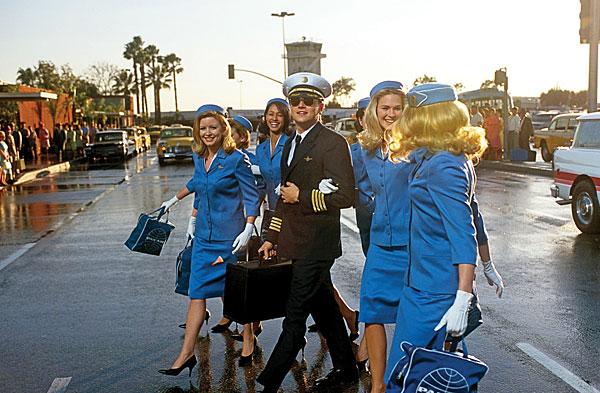 Catch Me if You Can
is just his second screwball comedy (the first being the box-office disaster and cult classic 1941), and even if it's not a classic, it's his hippest and most outrageously fun film to date. Strap yourself in for the unbelievable true story of one Frank Abagnale Jr. (Leonardo DiCaprio).
It begins with Frank Sr. (a great, low-key Christopher Walken) losing a fight with the IRS, which means he's losing the family's home, car, status, and eventually his wife. Frank Jr.'s first caper sets the stage: On his first day of public school, one thing leads to another and Frank Jr. ends up impersonating a substitute teacher for more than a week. As his family disintegrates, teenaged (!) Frank Jr. leaves home to impersonate an airline pilot, a doctor, and a lawyer, forging checks to support the lifestyle of each occupation and evading an ever-intensifying FBI manhunt. The touching part is that Frank Jr. so desperately believes he can steal enough to put things right for Frank Sr. and put his parents back together. As suave and sophisticated as DiCaprio plays Frank Jr., he's also wholly believable in this vulnerability, which becomes especially apparent in the lonely Christmas Eve phone calls Frank Jr. shares with his FBI foil, Carl Hanratty (Tom Hanks). Hanratty for his part never loses sight of the fact that Frank Jr., for all his criminal acts, is just a lost kid.
The HD image quality here is simply superb, sharp, and detailed, with a fine layer of living film grain that imparts a beautifully cinematic look and feel. Depth is sensational, and the period color palette gets its due big-time. I wish all Blu-rays imparted this combination of sharpness and filmic texture. The soundtrack is subtle at first blush, but that's just because there are no spaceships or dinosaurs. The sounds are so convincing and organic, they simply don't draw attention to the consistent enveloping ambience. John Williams' score sounds sensational, evoking touches of Bernard Herrmann's work with Hitchcock. This presentation is a technical triumph that serves the artistry and craft to near perfection.
The numerous extras are SD ported from a previous DVD, but they're good. The highlight is meeting the real Frank Jr. and learning more about how he did what he did. A brilliant guy, even if as a young man he never quite looked like Leonardo DiCaprio.
Blu-Ray
Studio: Paramount, 2002
Aspect Ratio: 1.85:1
Audio Format: DTS-HD Master Audio 5.1
Length: 141 mins.
MPAA Rating: PG-13
Director: Steven Spielberg
Starring: Leonardo DiCaprio, Tom Hanks, Amy Adams
Master director Steven Spielberg has made enduring classics in horror, sci-fi, adventure, and historical drama. 2002's