Cat People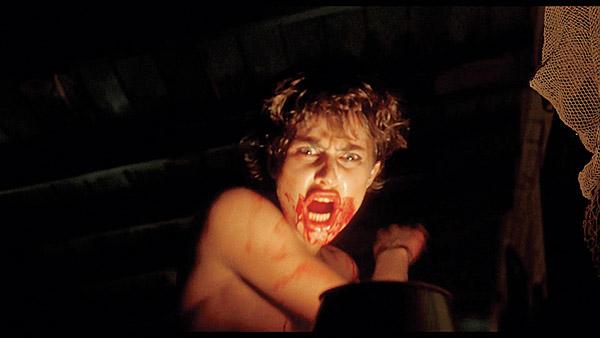 The film's look is very of its time—naturalism for some sequences mixed with others of pop video lighting and cruising camerawork. Eighties special effects look (cheesily) impressive and dimensional in this well-contrasted transfer. Images are often filled with areas of darkness for atmosphere, but figures are still sharp and detailed. Kinski's skintones are natural except when lit by the serious moonlight on her bare midnight ramblings. Blacks are deep in the panther and McDowell's all-black ensemble under a black leather coat. Whites, as when he wears his priest outfit, are bright. Details and textures are revealed in clothes, as are wrinkles in the skin of zoo elephants and the face and hair of an orangutan.
Most of the music by Giorgio Moroder is variations on the theme song (lyrics by David Bowie), so you get a surge of excitement when you're finally paid off at the end with the full Bowie rendition of "Putting Out the Fire" in a wonderful 5.1-channel mix (the disc offers the original 2.0, too). Bowie's voice comes off the front to float somewhere in the middle of the room while instruments are well separated into all channels. In fact, the soundtrack always comes more to life, filling the soundstage, whenever the haunting synthesizer music starts up. Otherwise, most action goes on in the front channels with atmospherics in the surrounds to bring the night to life with all manner of creature sounds. Effects pans are generally kept for the more dramatic scenes with the odd owl swooping overhead and the reenacting of elements from the 1942 film to create creepy moments. Panther roars are full, clear, and basilly resonating as they echo into the surrounds.
Apart from a stills gallery, extras include 50 minutes of new individual interviews. Unfortunately, they're accessible one at a time, but they're worthwhile because McDowell is a fascinating and eloquent raconteur, Schrader talks intelligently about the themes, and Moroder is interesting on the music.
Blu-Ray
Studio: Shout! Factory, 1982
Aspect Ratio: 1.85:1
Audio Formats: DTS-HD Master Audio 5.1, DTS-HD Master Audio 2.0
Length: 119 mins.
MPAA Rating: R
Director: Paul Schrader
Starring: Nastassja Kinski, Malcolm McDowell, John Heard
Slightly campy, with oodles of gratuitous nudity and violence, writer-director Paul Schrader's remake of the 1942 Val Lawton classic tells of Irena (Nastassja Kinski), a beautiful young woman who goes to New Orleans to stay with her sinister minister brother Paul (Malcolm McDowell). Irena represses her sexuality, fearing that animal lust will loose the beast and transform her—into a panther. When she falls in love, though, her desire makes her gradually embrace her nature.