Casablanca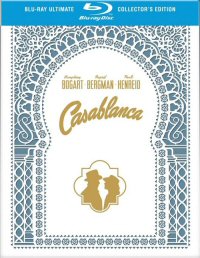 During World War II, Casablanca served as an exit point for many Europeans seeking to leave escape the gripping hand of the Nazi's. American Eexpatriate American Rick Blaine (Humphrey Bogart), owner of Rick's Caf, isn't what you would call a people person. When Still, when Rick's ex-lover, Ilsa Lund (Ingrid Bergman), arrives in town with European resistance fighter, Victor Laszlo (Paul Henreid), they seek out Rick's help in obtaining papers to escape Casablanca.
Ranked #2 on AFI's list of top 100 films, Casablanca is a timeless classic with witty dialog, outstanding cast, and first-rate performances from the likes of Claude Raines (Captain Renault), Humphrey Bogart, and European beauty Ingrid Bergman. Casablanca is a true American film classic.
Released in 2006 on HD DVD, Warner didn't mess with perfection and has ported over the nearly flawless VC-1 encode to Blu-ray. The print was meticulously restored frame- by- frame in 2003 and is in impeccable shape without any no blemishes or marks. Detail is outstanding in both long shots and close-ups, with breathtaking shadow delineation and inky blacks. Warner seems to do its best work with its older catalog titles, and Casablanca is no exception.
The Dolby Digital 1.0 soundtrack is very strong with rock-solid fidelity and crystal-clear dialog. Most of the audio information comes from the center speaker, even with Pro-Logic IIx engaged in my processor, but the hissing commonly found in older audio tracks isn't prevalent here.
The BD25 disc is crammed with the same supplements found on the HD DVD and the 2003 DVD release. They include two audio commentaries, an introduction by Lauren Bacall, some additional scenes and outtakes (without sound), two documentaries on Bogart and Casablanca, and a featurette titled "As Time Goes By: The Children Remember" with Pia Lindstrom and Stephen Bogart. In addition, Bugs Bunny makes an appearance in "Carrotblanca," with the rabbit starring as Bogart, himself and much, much more.
A second DVD disc includes a documentary, "Jack L. Warner: The Last Mogul," providing a revealing look at the rise of the Hollywood studio legend. Other goodies included in the collector's box include a Casablanca >-labeled passport holder and luggage tag, a 48-page photo book, 10 promotional cards from the movie, and some copies of archival correspondence about the film.
As with the HD DVD release, the presentation is fantastic and is a treat to behold. It's been 66 years since it's theatrical release, but Casablanca hasn't lost any of its charm over the yearin all that time. Highly recommended.
Release Date: December 2, 2008
Movie: 10/10
Picture: 10/10
Sound: 7/10

Review System
Source
Panasonic DMP-BD55

Display
JVC DLA-RS1 projector
Stewart FireHawk screen (76.5" wide, 16:9)
Electronics
Onkyo Pro 85 pre/pro
Anthem PVA-7 Amplifier
Belkin PF60 power conditioner
Speakers
M&K S-150s (L, C, R)
M&K SS-150s (LS, RS, SBL, SBR)
SVS PC-Ultra subwoofer
Cables
Monoprice HDMI cables (source to pre/pro)
Best Deal analog-audio cables
PureLink HDC Fiber Optic HDMI Cable System (15 meters) from pre/pro to projector
LATEST VIDEO