Cambridge Audio CXUHD Ultra HD Blu-ray Player Review Page 2
Video output settings I selected in the player's setup menu included UHD Auto Custom Resolution, Auto Color Space (other options: YCbCr 4:4:4, 4:2:2, and 4:2:0), Auto Color Depth (other options: 12-, 10-, and 8-bit), and Auto Deinterlacing. For settings in the Audio output menu, I selected Secondary Audio Off, Auto HDMI Audio, Multichannel SACD priority, and PCM SACD output. As with the Oppo player, a subtitle shift setting lets you adjust the placement of subtitles in the frame when using a projection screen with a 2.35:1 aspect ratio. There's also a setting that lets you configure the player for SDR-only output when displaying HDR discs using a regular, non-HDR TV.

One setup glitch came when I attempted to upgrade the player's firmware. To briefly sum up: There was a mismatch between the current firmware version listed on Cambridge's website and the one available for download over a network connection. Also, when the company made the latest firmware available for me to download via a Dropbox-type service, the player wouldn't load the file. Cambridge assured me that my player had the current firmware version, however, so I continued with my testing.
Video Performance
As expected given its provenance, the CXUHD passed all of our video processing tests without breaking a sweat. Regular Blu-rays looked great when upconverted by the player. For example, when I watched the scene in Passengers where Jim and Aurora begin their date with a drink at the bar, the picture looked crisp, with a wide range of subtle colors. I could also see a good amount of detail in her black dress and his dark gray suit.
I then switched over to the movie's Ultra HD Blu-ray edition in HDR10. The same scene looked notably more dynamic: Blacks had better depth and detail, and highlights such as the backlit surface of the bar were brighter and displayed a greater sense of pop. Colors, too, particularly of the bottles lining the shelves of the bar, came across as more saturated and with a wider range of hues. Also, fine details such as the shimmer of light on Aurora's earrings caught my attention, whereas they hadn't when I watched the regular Blu-ray.
To check out the player's handling of Dolby Vision HDR, I viewed the Ultra HD Blu-ray of Resident Evil: Vendetta. In an early scene where the soldiers scan an abandoned mansion, looking for zombies, the contrast created by deep blacks in the shadowy space and bright beams from the rifle-mounted flashlights gave the image a powerful sense of depth. I also noted plenty of detail in the room interiors and the uniforms of the soldiers. Another Dolby Vision disc I watched, The Fate of the Furious, didn't have the same visual impact, but I did see a boost in contrast and shadow detail when, after switching to the regular Blu-ray, I returned to the HDR version.
Audio Performance
Since the CXUHD hands the job of digital-to-analog conversion over to an A/V processor or receiver, my evaluation of the player's audio performance was mostly limited to confirming that things worked. First up: a hi-res FLAC download of "My Valentine," a jazz ballad written by Paul McCartney and played by the Brad Mehldau Trio. When I streamed it to the CXUHD from my computer over Wi-Fi, the player handled it without a glitch. Not only that, but the sound retained the lush, warm tone and spacious presentation I'm used to hearing with this track.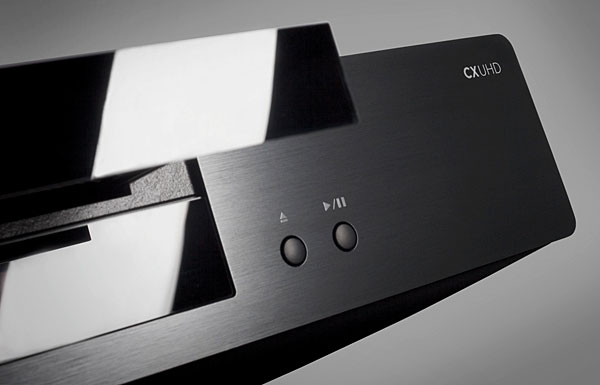 I always enjoy reviewing universal players because it allows me to rediscover the SACDs and DVDAudio discs in my collection. It's easy to forget how much fun music in surround can be. When I listened to Audivi Vocem de Caelo, a John Taverner composition on a multichannel SACD by early music vocal ensemble Stile Antico, the massed voices had a soaring quality, and the reverb trails when they paused singing for a few beats saturated my room. Closing my eyes, I felt like I was listening in a cathedral.
Digging out my Steven Wilson–mixed multichannel DVD-Audio of King Crimson's Discipline, I played the title track and became caught up in the intertwined web of guitars. Tony Levin's Chapman stick sounded rubbery and fat, with its impressive low-frequency reach augmented by the hypnotic thump of Bill Bruford's kick drum. A snare drum rhythm is introduced about halfway through the track; here, the sound came across as dry and crisp, with a firmly centered positioning that locked down the mix.
Conclusion
I can't say that the Cambridge Audio CXUHD, as auditioned in my system, provided any performance advantage over the Oppo player it's based on. But I can see how it would be a sensible purchase for someone seeking a Dolby Vision–capable Ultra HD Blu-ray player designed for digital-only output. Along with its excellent video performance, the CXUHD offers great looks and build quality, and its HDMI input provides a convenient way to access streaming services through the addition of an inexpensive Apple TV, Chromecast, or Roku box. I was impressed by what I saw and heard during my time with the CXUHD, and I would easily recommend it as a streamlined alternative to Oppo's excellent Ultra HD disc players.