Café Society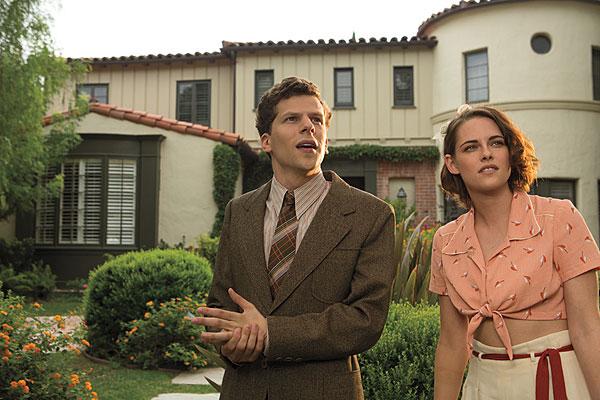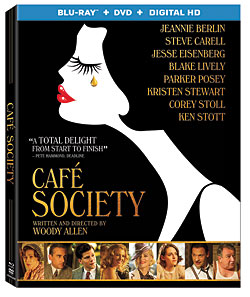 Vittorio Storaro's cinematography fills the screen with gentle, golden-lighted shots of warm browns, yellows, and assorted pastels. Scenes of poolside parties have brighter Californian dazzle, revealing greater detail and sharpness. Back in the New York nightclub, socialite and smart-set dinner jackets are inky black, and dress shirts bright white, while outfits offer splashes of rich primaries. Throughout, there's a grainy effect that looks like a combination of old movies, paintings, and poster illustrations; combined with Allen's voiceover narration, it all evokes memories of the past as seen on film or read in a book.
Traditionally, Allen kept his soundtracks single-channel mono to (somewhat) suit his dialogue-driven comedies and dramas. Lately, though, he's allowed some concessions to that new-fangled modern technology with "discrete surround" as it's listed on some discs. On Café Society, there's actually Dolby Digital 5.1—though not so you'd notice. Stubbornly, for vintage recordings of songs by the likes of Benny Goodman & His Orchestra, the mono is split to left and right channels with cast conversations in center; more recent renditions of 1930s jazz standards are spread across the three front channels. (All is clear and fully resonant.) Surrounds are reserved for extremely discrete atmospherics, with no other effects or instrumental expansion that might distract attention from the screen.
Similarly, the studio put one over on the director by sneaking in an extra while he wasn't looking: a three-minute clip of an opening-night parade of the stars. At least it's in keeping with the film's celebration of glamour.
Blu-Ray
Studio: Lionsgate, 2016
Aspect Ratio: 2.00:1
Audio: Dolby Digital 5.1
Length: 96 mins.
MPAA Rating: PG-13
Director: Woody Allen
Starring: Jesse Eisenberg, Steve Carell, Kristen Stewart
With Café Society, Woody Allen cleverly combines 1930s Pre-Code romantic comedies like Red-Headed Woman with the glamour-and-gangster nightclubbing of Manhattan Melodrama, all delivered with Purple Rose of Cairo–type old-school Allen evocation of era. Bobby Dorfman (Jesse Eisenberg) leaves his Bronx Jewish family to work as an errand boy for his powerful Hollywood agent-to-the-stars uncle (Steve Carell). When Bobby falls in love with his uncle's secretary (Kristen Stewart)—despite her having a lover—things get complicated, especially on Bobby's discovery that her boyfriend is his boss. From this simple scenario, the writing-directing maestro creates a complex and entertaining tale that questions the meaning and importance of love, romance, and moral responsibility, and examines the effects of ambition and success on our feelings and values.