Buying the Best Music
RealNetworks' Rhapsody music service keeps finding new partners to jam with. Earlier this month, Sonos announced a software update to their multi-room digital music system that allows users to access Rhapsody's immense library of songs without requiring a computer. Now the behemoth big box retailer Best Buy is giving the free world access to the Best Buy Digital Music Store - a an on-line purchasing playhouse powered by the Rhapsody 4.0 service.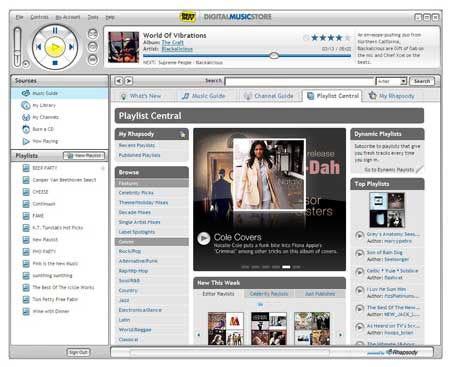 Best Buy says as part of the launch of the new on-line store it will carry and promote SanDisk's Sansa e200R Rhapsody MP3 players which have been optimized to work seamlessly with the Best Buy Digital Music Store.
Consumers who want access to the "millions of songs" available through the Best Buy Digital Music Store will have two options. Songs may be purchased for $.99 per song, whether or not the purchaser subscribes to the service. Subscribers, on the other hand, can pay $14.99 per month for unlimited access to the entire song library. The music can be played on a computer or downloaded onto the SanDisk e200R Rhapsody or any other Rhapsodyt-compatible MP3 player. Subscribers' music files can be listened to without limits as long as the subscription is active.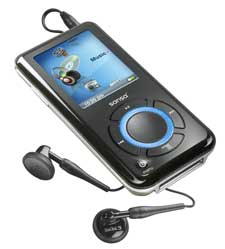 The e200R Rhapsody includes a free, two-month subscription to the Best Buy Digital Music Store. The portable unit is a specialized version of the SanDisk Sansa e200 and is available in storage capacities from 2GB to 8GB. The unit includes a digital FM tuner; integrated voice recorder with built-in microphone; a microSD expansion slot; a 1.8-inch color screen; and a replaceable, rechargeable Lithium Ion battery (with up to 20 hours of battery life).
The Sansa e200R player sells for $139.99 MSRP (2GB) to $249.99 MSRP (8GB).
LATEST VIDEO