Burn this flag!
Several months ago, I lamented about how my Scientific Atlanta cable box repeatedly refused direct orders to record Survivor. Week after week I would say, "Record all showings," and week after week I looked in vain through my recorded list. My normally faithful DVR continually left me like a jilted lover at my home theater altar.
After some research, it turned out I wasn't alone, as many people around the country relayed similar problems when trying to record Survivor. (And let me save you a little time before you type your little missive; we don't feel like our DVRs were doing us a favor, thanks.)
Then back in May, Windows Media Center owners got a taste of technology gone bad when their machines seemingly went all self-aware and suddenly stopped recording certain shows. (OK, one of the shows was American Gladiator. I'm not saying that watching that is more lame than Survivor, but . . .)
Now the latest victim is that most sacred of DVRs, TiVo.
Turns out broadcasters can slip a digital "F-You!" into the bitstreams of their transmissions in the form of a digital flag. This flag then tells your DVR that recording this show is a no-no or that the recorder should automatically delete it after a set period of time. Normally this would be used to protect pay-per-view or other premium content, but sometimes the flag can be sent incorrectly. Read TiVo's take on digital copy protection here.
Most recently, TiVo owners looking to replay episodes of Star Trek were met with this rude screen (see screengrab below).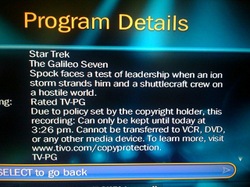 While this flag was likely sent by mistake, it shows just how fragile our recording "rights" really are. All I can say is, God help CBS if they make me miss even one episode of Survivor next season in HD! – John Sciacca
John Sciacca is The Custom Installer columnist for Sound & Vision. His company is Custom Theater and Audio.
LATEST VIDEO