Burn After Reading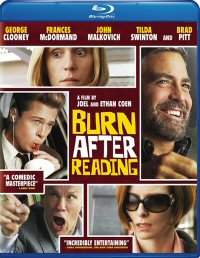 When the memoirs of an ex-CIA analyst (John Malkovich) end up in the hands of two dense gym employees (Brad Pitt, Frances McDormand), they resort to blackmail in order to extort a finder's fee. Unbeknownst to them, they set off a series of events that spiral out of control.
Joel and Ethan Coen certainly know how to deliver a great story involving unique characters. The all-star cast also includes George Clooney as a philandering Treasury agent and Tilda Swinton as a cold-hearted bitch who play integral roles in the quirky tale. I especially loved Pitt's performance as the dim-witted Chad, and he certainly deserves some award attention for his role.
The VC-1 encode isn't to fault for this intentionally bland presentation. Colors lack the pop expected from HD, and the image has a very processed look with heavy use of edge enhancement. Close-ups look very good, especially the texture of facial shots, but the longer-range shots lose detail and look soft by comparison.
The DTS-HD MA soundtrack is a mixed affair with superb dynamics and well-placed discrete effects, but it occasionally sounds muffled—especially the dialog. Clooney mumbles a number of his lines, and I found myself turning the volume up much louder than usual, but when the dynamics of the track kicked in, I feared waking the dead.
The supplements include a making-of featurette and a look at the all-star cast, all in HD. The disc also contains some BD-Live features including "My Scenes" to share with friends and some theatrical trailers.
Burn After Reading is a unique film from the Coen brothers that may not appeal to everyone. If you've enjoyed their past work, then be sure to check it out even with the average HD presentation.
Release Date: December 21, 2008
Movie: 8/10
Picture: 7/10
Sound: 7/10

Review System
Source
Panasonic DMP-BD55

Display
JVC DLA-RS1 projector
Stewart FireHawk screen (76.5" wide, 16:9)
Electronics
Onkyo Pro PR-SC885 pre/pro
Anthem PVA-7 Amplifier
Belkin PF60 power conditioner
Speakers
M&K S-150s (L, C, R)
M&K SS-150s (LS, RS, SBL, SBR)
SVS PC-Ultra subwoofer
Cables
Monoprice HDMI cables (source to pre/pro)
Best Deal analog-audio cables
PureLink HDC Fiber Optic HDMI Cable System (15 meters) from pre/pro to projector

Acoustical treatments from GIK Acoustics
LATEST VIDEO