Brotherhood of Blades II: The Infernal Battlefield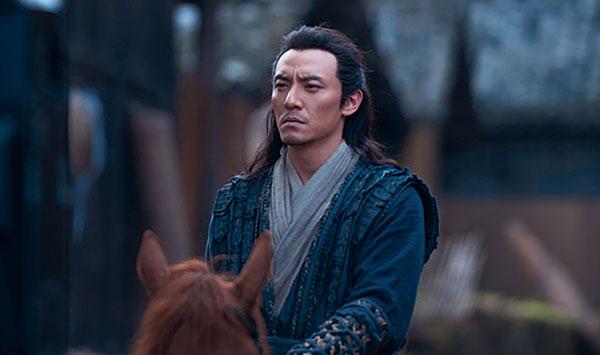 Shen Lian (Chang Chen), a captain, finds himself trapped in a conspiracy by rebels fighting against the palace, and in order to clear his name he must align himself with the elusive—and gorgeous—wanted rebel Bei Zhai (Yang Mi) and her cohorts. Classic elements of the wuxia genre combine with story lines that may seem familiar from films like Crouching Tiger, Hidden Dragon or Hero to ultimately provide a not wholly original yet still compelling film filled with fantastic choreography, splendid wirework, and edge-of-the-seat action sequences. The political machinations tend to slow the film a bit too much, however (we're not talking Phantom Menace shut-up-and-get-on-with-it levels, but still), and the plot also becomes a little too convoluted, but these nitpicks aren't enough to make BoB II unsatisfying.
Brotherhood of Blades II was shot in the anamorphic format on Arri XT and Arri XT Plus cameras at 2.6K resolution, and a 2K DI was used in post-processing. The Blu-ray arrives with a beautiful 2.66:1 AVC 1080p encodement that's clean and free from banding and noise while maintaining a filmic appearance. It has wonderfully nuanced shadows free from crush, which is welcome for a film that spends much of its time in darkened streets and forests at night.
Brotherhood of Blades II gets a competent Mandarin DTS:X mix (compatible with DTS-HD Master Audio 7.1). An English dub in DTS-HD Master Audio 5.1 is also included. While the dynamic range for the DTS:X mix sounds a bit narrow even as the low end is oddly overblown, the overheads are put to good use with frequent rainstorms—apparently, weather during the Ming Dynasty was prone to downpours—and lots of atmosphere for the score. Foley effects are well placed throughout the soundfield as well.
This is a typically bare-bones release from Well Go USA that comes to Blu-ray with only a nigh-five-minute behind-the-scenes featurette composed of interviews, some B-footage, and the original theatrical trailer. A standard-definition DVD is also included.
Blu-Ray
Studio: Well Go USA, 2017
Aspect Ratio: 2.66:1
Audio Format: DTS:X / DTS-HD Master Audio 7.1 core
Length: 121 mins.
MPAA Rating: NR
Director: Yang Lu
Starring: Chen Chang, Mi Yang, Yi Zhang
The 2014 wuxia film Brotherhood of Blades established the story of three members of an elite palace guard unit during the Ming Dynasty who must abandon their brotherhood and apprehend one of their own after he goes rogue, only to find themselves caught up in an even larger conspiracy. The Infernal Battlefield continues the story of these best-of-the-best guardsmen. It brings back much of the cast, but this is a standalone film that doesn't require viewing the first to be understood.