Bluesound Upgrades Family of Wireless Hi-Res Audio Products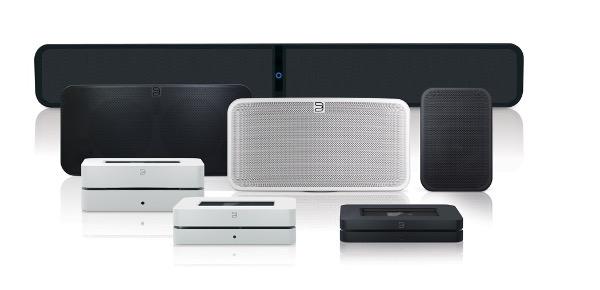 NAD/PSB sister company Bluesound has announced a series of upgrades for products introduced five years when parent company Lenbrook launched the brand and its BluOS wireless platform.
The revamped Generation 2i (Gen 2i) lineup comprises the Node 2i streaming player ($499), PowerNode 2i ($799) streaming amplifier, Vault 2i ($1,199) streaming server, Pulse Soundbar 2i ($799 in black, $899 in white), and three upgraded speakers: the Pulse 2i ($799), Pulse Mini 2i ($499), Pulse Flex 2i ($299). The Pulse Sub remains unchanged and all upgraded models are currently shipping, except for the Pulse Soundbar 2, which is due out in November. Like their predecessors, all models are offered in black or white.
Key improvements include an upgrade to BluOS 3.0, dual-band Wi-Fi, two-way Bluetooth, support for Apple AirPlay 2 — which will be available via a future firmware upgrade — and upgraded Bluetooth codecs, amplification, and acoustics.
AirPlay 2 compatibility will enable content from an iPhone, iPad, or Mac to be streamed in sync over a Bluesound system as well as provide more control options, including Siri voice assistance, which can be used to access music via iOS devices once a Gen 2i player is added to the Apple Home App.
Two-way Bluetooth capability — available on all Gen 2i products except the Pulse Flex 2i — enables streaming from a Bluetooth device to a Bluesound system as well as using a Gen 2i player as a source for streaming music to a Bluetooth device, such as wireless headphones.
Bluesound has also improved Bluetooth connectivity in Gen 2i products with the use of an advanced Qualcomm CSR8675 chip featuring the aptX HD Bluetooth codec, which supports streams up to 24-bit/48-kHz for better-than-CD quality with improved signal-to-noise ratio.
The Wi-Fi chipset in Gen 2i products has been upgraded to dual-band Wi-Fi (802.11ac) giving users the option of connecting via the faster 5-GHz band.
The use of new, custom-designed digital amplifiers in the Pulse 2i and Pulse Mini 2i speakers effectively doubles available power for a more dramatic sonic presentation with improved bass, according to Bluesound. A revamped driver configuration in those speakers and Pulse Flex 2i enable each speaker to deliver "true stereo sound."
The updated Pulse 2i and Pulse Mini 2 speakers also provide more listening options with the inclusion of Wide, Late Night, and Dialog modes borrowed from the Pulse Soundbar.
Bluesound has also expanded connectivity with Toslink/3.5mm optical and analog inputs on the PowerNode 2i and HDMI (ARC and eARC) on the Pulse Soundbar 2i.
The upgraded BluOS 3.0 streaming platform, which has also been rolled out to existing Bluesound products, is said to simplify setup, provide access to new music services such as SoundMachine, and set the stage for integration with Amazon Alexa at a later date.
For more information, visit bluesound.com.