Blue Jasmine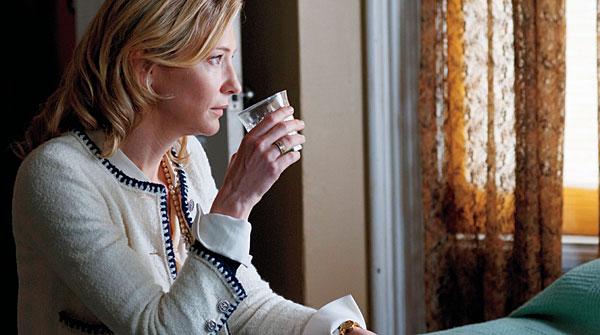 A Streetcar Named Desire
filled with humor, tragedy, and great performances. Leading the cast is a towering Cate Blanchett as Jasmine, a former New York socialite whose life has fallen to pieces. The story is told by flashing back and forth between her old life of luxury and glamour in her 5th Avenue, Manhattan mansion (and summer house in the Hamptons) and her new humble and humbling existence living with her working-class sister (Sally Hawkins) in San Francisco after Jasmine's successful businessman husband (Alec Baldwin) is sent to prison for fraud and all their funds seized.
Following a breakdown, Jasmine needs to pull her life back together. But having spent a self-centered life pampered by a provider, the disdainful woman is ill prepared emotionally or practically for ordinary life. Chances are, she won't succeed or survive her job as a dentist's receptionist, her sister's crude, hostile fiancé, or her own shame. Only booze, pills, and fantasies of finding a new wealthy provider might keep her sane.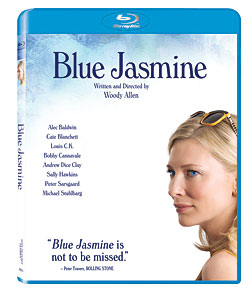 In the bright and airy images, colors are rich and warm, with Blanchett often surrounded by the golden glow of her sun-drenched Hamptons home, the subtle tones of her Manhattan place, or the richer-colored streets of San Francisco. Blacks are fairly deep and whites bright. The sharp picture is detailed enough to read Jasmine's receptionist nametag and make out visible texture and threads in outfits.
Like his previous film, To Rome with Love (2012), Blue Jasmine comes with a 5.1-channel soundtrack, not Allen's long-traditional 1.0 mono or recent 3.0 tracks. Mostly it's still mono, with the jazz numbers spread identically across the front channels. There is some use of the surrounds for atmospherics—an airplane, surf and gulls by the sea—but all the dialogue is from the center channel. Fortunately, the dialogue in the dazzling, babbling monologues delivered by Blanchett and the amusing input and criticism heaped on Jasmine by the rest of the talented cast is always clear.
Rare extras include a press conference, the cast effectively handling exceedingly dumb questions, and red-carpet interviews. The actors discuss Allen's screenplay—which was nominated for an Oscar like 15 other of his works (three of which won)—and his direction of them.
Blu-Ray
Studio: Sony, 2013
Aspect Ratio: 2.40:1
Audio Format: DTS-HD Master Audio 5.1
Length: 98 mins.
MPAA Rating: PG-13
Director: Woody Allen
Starring: Cate Blanchett, Alec Baldwin, Sally Hawkins
Screenwriter-director Woody Allen serves up a delicious modern variation on Tennessee Williams'