Blu-ray Review: Treme Page 3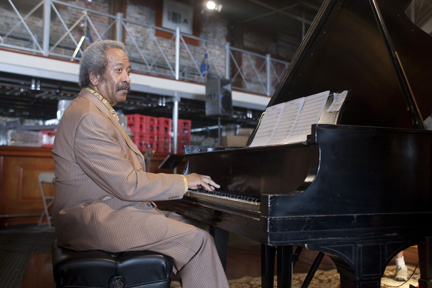 Fortunately, all those caveats are washed away by the extraordinary music that fuels both New Orleans and the show. Many of the city's greatest musicians participate in Treme in one way or another, on camera or off. And in a technique unprecedented in the history of TV, all of the music is recorded live along with the dialogue as scenes are shot. If an actor can't actually play his instrument, a real local musician stands just off camera supplying the necessary artistry. And never has so much time and space been devoted to music in a TV show — or a feature film, for that matter. As Simon and Overmyer state in their lone joint commentary (on Episode 1), if you're fast-forwarding through the musical sequences, you're watching the wrong show.
That commentary is one of five served up over the course of this 10-episode, four-disc Blu-ray set. Members of the stellar ensemble cast are well represented by Wendell Pierce, Khandi Alexander, and John Goodman, along with various episode writers and directors. In a sign of the show's visceral impact, Goodman actually chokes up at one point while discussing the harrowing journey his character endures over the course of the season. The commentaries seem to carry more weight than most, but sometimes that's because there's just so much to talk about here. Two documentaries also allow us to get better acquainted with the cast and crew.
LATEST VIDEO