Blu-ray Review: The Hurt Locker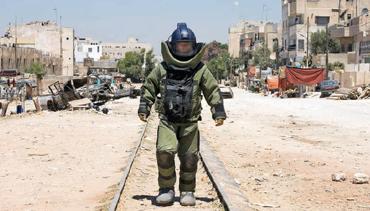 (Summit)
---
Movie••••½ Picture••••½
Sound••••½ Extras•••
Total audience immersion is the intent of The Hurt Locker, this year's Best Picture Winner and the first to successfully penetrate the war in Iraq. Director Kathryn Bigelow and screenwriter Mark Boal leave out politics entirely, instead using 360° camera coverage and a highstrung, documentary-style narrative to take us where we didn't know we wanted to go: inside a U.S. bomb-disposal squad that must roam Baghdad and its environs to dismantle homemade explosives left for American soldiers, while trying to avoid snipers. The chaos and futility of urban warfare are all too clear, but this film is really about the men who somehow relish the most dangerous job in the world.
Nearly every aspect of the film is geared toward getting inside the heads of those men and making their experiences our own. Boal spent time embedded as a journalist in a similar unit in Iraq, and his realistic, terse dialogue (at least in the action sequences) never sinks to theatricality. The lead performances — especially an Oscar-nominated turn by little-known Jeremy Renner as William James, the reckless cowboy of the squad — are understated in the extreme. Even the audio, for which effects designers and music composer worked together to craft a tightly integrated soundscape, only serves the larger goal of putting you on the ground in Iraq.
On Blu-ray Disc, all the elements come together for maximum grit and suspense. The grainy, sun-bleached glory of cinematographer (and accomplished documentarian) Barry Ackroyd's 16mm-fi lm and HD-video images pops off the screen with all essential detail intact. The DTS-HD Master Audio sound moves easily from subtle to explosive, with nuances that ratchet up the tension. The 5.1-channel separation here should provide a model for other disc producers to follow.
The extras, however, are nothing to write home about. A Bigelow-and-Boal commentary covers the usual bases, as does a 12-minute documentary. A photo gallery includes audio remarks from the filmmakers. Don't be surprised if the Oscar wins prompt a more elaborate, extras-filled release in the near future.
LATEST VIDEO