Blu-ray Review: Hall Pass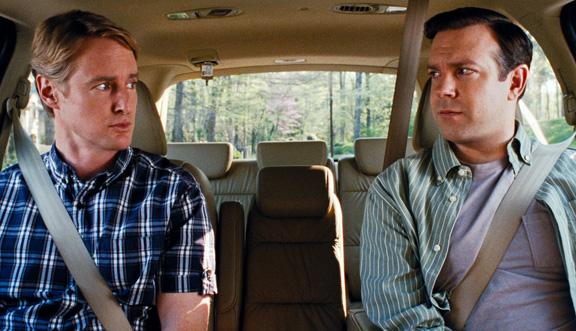 The starting point of Hall Pass, the latest comedy from writer/directors Bobby and Peter Farrelly, is the same as that of most current TV sitcoms: Gone-to-pot, sex-mad, middle-aged suburban American husbands — who've been infantilized by their disappointed, slightly contemptuous, much more attractive wives — yearn for freedom (and more sex) via younger, even hotter women. Here, though, upon realizing just how miserable, pathetic, and humiliated their husbands feel at being slaves to fantasies, the wives set out to cure the guys by giving them the titular pass: to be liberated from all the restraints of marriage for 1 week. In other words: "If you remove the taboo, you remove the obsession."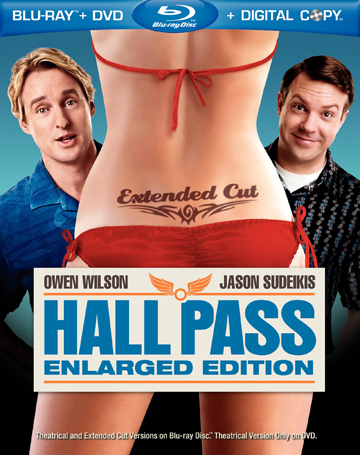 An embarrassing education is had by all — played amusingly enough by Owen Wilson, Jason Sudeikis, Jenna Fischer, and Christina Applegate — and it's followed by the inevitable realization that there's no place like home. But underlying the homilies and the Farrelly brothers' usual masturbation and dick-size jokes, there's a poignancy (and even a sadness) about marriage and the balance of power within. Of course, the Farrellys display the same tasteless humor, full of body parts and fluids, that they did in Dumb and Dumber and There's Something About Mary. Yet in their depiction of fortysomething manhood, they seem to have aged into kinder, gentler filmmakers.
This ultimately reassuring story is mirrored by visuals filled with warm and fuzzy colors that lend a verisimilitude to the bland suburban settings. The 2.40:1 picture is otherwise sharp and detailed, even in shadows, with clothing materials clearly visible and objects displaying a satisfying solidity.
In the DTS-HD Master Audio 5.1 soundtrack, dialogue is clear and the rock-song score is full (though without much separation of instruments). The music spreads to the surround channels, joined unobtrusively by atmospherics. A car chase and a shootout offer opportunities for aggressive panning of effects, but the sound mixers opt for simplicity.
This so-called Enlarged Edition has an Extended Cut, a 4-minute deleted sequence, and a blooper reel that one participant describes as "the most boring ever." I wouldn't disagree.
(Photo courtesy New Line/Warner Bros.)
LATEST VIDEO