Blu-ray Disc Review: Night at the Museum: Battle of the Smithsonian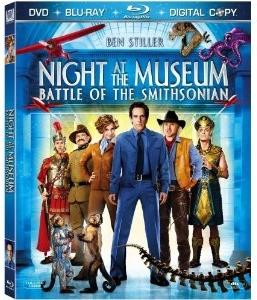 20th Century Fox
---
Movie •••½ Picture •••½ Sound •••• Extras •••½
This entertaining sequel is actually better than the first outing because it gives Larry Daley (Ben Stiller) a love interest: Amelia Earhart (the ever appealing Amy Adams). It also gives the viewer a good message, which is - uh, never mind. Watch the movie!
Meanwhile, the antics that ensue when some museum exhibits are shipped from New York to Washington are colorful indeed on this Blu-ray Disc. At times, though, the picture seems just a tad flat. But the DTSHD Master Audio 5.1 sound is impressive throughout, with a careful mix that makes use of all 6 channels. You'll want to duck when Amelia revs up that Wright Brothers plane.
The commentary by director Shaun Levy is enthusiastic and intelligent. The one by writers Robert Ben Garant and Thomas Lennon lends some insight, but their raucous, partying style might put some people off. Among the copious production featurettes, the ones about the two monkey stars are the best. Additional discs provide a standard-def version of the movie on DVD and a digital copy.
LATEST VIDEO
WHERE TECHNOLOGY BECOMES ENTERTAINMENT