Blu-ray Disc Review: Inglourious Basterds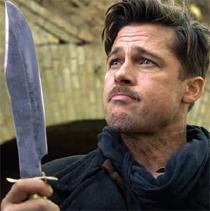 Universal
---
Movie ••••½ Picture •••• Sound •••• Extras •••½
Long before writer/director Quentin Tarantino's Inglourious Basterds, there was Enzo G. Castellari's The Inglorious Bastards, a properly spelled but far less masterful 1978 movie (now on DVD and Blu-ray Disc). The two movies share only a World War II setting and a Castellari cameo. Thankfully, Tarantino was nonetheless inspired by Bastards to make his smashing if controversial Basterds.
With this Blu-ray Disc, you can savor every scene. Although the cinematography lacks the detail and magnificence to push every last pixel of your HDTV to its limit, images are beautiful both for their composition and for the way they help heighten the suspense in the movie's slowly building, almost unbearably tense set pieces. And the DTS-HD Master Audio 5.1 mix will fill your surround speakers with everything from Italian score snippets to 1970s American funk.
The suspense continues in the extras: You wonder when a long-winded roundtable discussion between star Brad Pitt, film critic Elvis Mitchell, and the too talkative Tarantino is going to end. Fortunately, the rest of the bonuses (other than the usual digital copy on an extra disc) rock as hard as the soundtrack. They include the complete Nation's Pride - the film within the film, a faux propaganda pic made by Basterds co-star and Hostel director Eli Roth - and a "Killin' Nazis Trivia Challenge."
LATEST VIDEO