Blu-ray Disc Review: Harry Potter and the Half-Blood Prince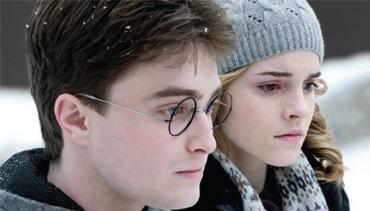 Warner
---
Movie •••½ Picture •••• Sound ••••½ Extras •••½
Early in Harry Potter and the Half-Blood Prince, there's a big special-effects scene that finds some Death Eaters causing havoc in London. Does this sixth movie in the series fully open up the story to the world of Muggles? No: We are swiftly returned to Hogwarts School. Which is fine, since the real opening-up here is that of hearts and hormones.
The look of Hogwarts in the previous films tended to be Victorian - ornate and cluttered, softly candlelit, sometimes gloomy, sometimes filled with warm but generally muted grays/greens/browns, with few rich tones to be found. The first part of Half-Blood Prince follows suit, but then the images' brightness and contrast on this Blu-ray SIXTH POTTER PLAYING (. . . my Blu love sent to me.) Disc become more striking. By the final confrontation scene, depth is much greater, detail is especially noticeable, and there's a lifelike roundness to figures and faces. Here, the wig and cowl worn by Alan Rickman's Snape are the inkiest black - appropriate for the most despicable of acts he will perform.
The Dolby TrueHD 5.1 mix enhances the three-dimensionality, with effects perfectly panned - as when a train chugs into a station, or when a demolished room is put back in order, Mary Poppins-style, with objects flying by. In the sound's wide dynamic range, whispered words up front are as clear as the rumbling of thunder in the rear and the undistorted onslaught of pounding drums and strings in all channels.
Warner's Maximum Movie Mode enables you to watch the film with PIP interviews, breakdowns of special effects, and branching-off mini-documentaries. Disc 1 also gives you access to BD-Live events - such as the surprisingly fun community screening I "attended" in which director David Yates and star Daniel Radcliffe answered questions that were e-mailed by viewers.
Disc 2 is crammed with high-def extras. One featurette has cast members interviewing crew members to find out things like what an editor or an owl trainer does. Another featurette requires the cast to instantly reply to rapid-fire questions on their likes and dislikes, and a third has them giving 1-minute descriptions of their character's dramatic arc. All of those bonuses are aimed at kids, but the last one at least allows for clips from all six films, showing the actors growing up.
There are extended scenes and advance looks at Universal Orlando's Harry Potter attraction and the first of the two Deathly Hallows movies to come. You also get an honest 50-minute portrait of J.K. Rowling, filmed while she was writing the final book, and it reveals how much her childhood inspired the series. But if you haven't read that final book, be advised: The doc further reveals how the saga finally ends. The third disc in this package is a DVD with a standard-def version of the movie, and a code is provided for downloading a digital copy.
LATEST VIDEO