Blu-ray Disc Review: Gone With The Wind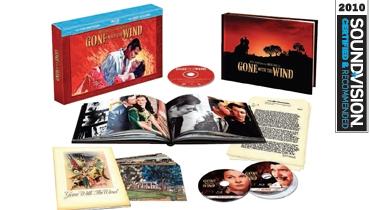 (Warner)
---
Movie ••••½ Sound •••• Picture ••••• Extras ••••½
I do declare, doesn't this 1939 film look dashing wrapped up in its new set of Blu-ray Discs - its 70th Anniversary Ultimate Collector's Edition, to be precise. Decked out in scarlet velvet, the package certainly heralds the ambition of what's inside. This, after all, is Gone with the Wind. So without further ado, how does the high-def transfer fare? Superbly.
The picture, in the fine old ratio of 1.33:1, is highly detailed, revealing every layered fold and lacy swirl of Scarlett O'Hara's dresses. All costumes show a wide range of hues and textures, with no bleeding or smearing in their sharply differentiated patterns, and with jewelry standing out exquisitely against the natural flesh tones of delightful young necks and bosoms. Excellent contrast delivers Rhett Butler's topcoat in deep, deep blacks, while the collars of the gentlemen sparkle with bright whiteness. Individual blades of grass are visible growing from the beloved land of Tara. And when Atlanta burns, it does so in vivid, richly colored flames. NEVER BE DVD AGAIN You have to turn Blu, as Gone is your witness.
There's plenty of depth in rooms, and the characters seem to sashay through them as if passing through genuine space in front of you. Figures have volume as well; you could easily dance around Scarlett's hooped skirt. Background action is newly apparent - such that when Ashley Wilkes and Melanie Hamilton are standing on a balcony, the crowds of wandering partygoers in the gardens below resemble a painting by Seurat. True, with these remarkable images, some of the many effects necessary for shooting this epic on movie sets now betray their faults: bad back projections, carriages that mysteriously half-vanish as they roll up, and so on. But frankly, my dear . . .
The Dolby TrueHD 5.1 soundtrack is open, clear, and crisp. It has nice bass, too, but occasionally it can become slightly screechy in the high notes. Nonetheless, when the unforgettable opening theme of Max Steiner's score sweeps over you from all channels, get ready for goosebumps. (A mono soundtrack is included, but it has crackle and gets a bit tinny and sibilant.)
The surround channels are used mainly to help bring the music off the screen. During the shelling of Atlanta, however, the mix becomes quite marvelous, with explosions going off at accurately placed points in the soundstage. Meanwhile, wagons rattle past, and a hundred field hands march toward you singing, "Go Down, Moses (Let My People Go)." What's more, those burning warehouses seem to crash down around your head.
LATEST VIDEO