Blu-ray Disc Review: Angels & Demons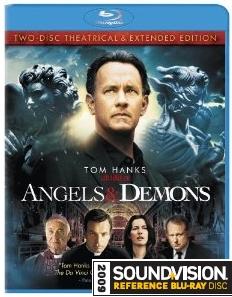 Sony
---
Movie ••• Picture ••••½ Sound •••• Extras •••½
Just as faith is the cornerstone of religion, Angels & Demons requires a large suspension of disbelief to swallow its canny combination of questionable church lore and questionable scare-mongering over particle acceleration. But the rewards in home theater (if not heaven) are considerable over the course of a chase against time through the glories of Vatican City.
Disc 1 contains both the theatrical version and an extended cut that's 8 minutes longer. Images have a range of looks, from dim, dusty libraries to bright, deep-focused laboratories. But it's in the moodily lit churches and papal offices (where the deadly scavenger hunt takes place) that the true treasures can be found. Contrast here is excellent, with the scarlet sea of cardinals' robes set off by the black cassock of Ewan McGregor and the colorful uniforms of the Swiss Guard. And the DTS-HD Master Audio 5.1 sound immerses you in the ascending choirs and bassy percussion of Hans Zimmer's tense score.
Most of the extras are on the second disc, including an interactive tour with a glossary and some historical background on each of the five sites that the story uses for clues. The 85 minutes of production featurettes are generally blah, but the 15 minutes on CERN (home of the world's largest particle collider) are fascinating. Sony's movieIQ feature hooks you up to an Internet database that brings you biographical credits for every scene. A digital copy of the movie is contained on a DVD.
LATEST VIDEO