Black Mass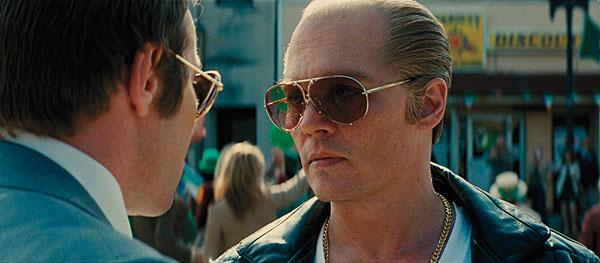 Occasional scenes in FBI headquarters or Whitey's senator brother's offices are as light and airy as the underworld is dark and dank. Colors are cold, desaturated in a moody, dimly lit 1970s style with very narrowly focused shots that cry out for grain to complete the illusion. Nonetheless, black-and-white surveillance photographs have deep blacks and bright whites, as do the FBI suits and shirts. Skintones are natural. Plentiful detail reveals distinct patterns in Whitey's dear old mother's cardigans, texture in agents' attire, and lines in lived-in faces.
Different parts of Bulger's story are told by rats spilling their guts to the Feds, and all the dialogue in this acting-centered drama is clear and full. For much of the film, the tension-building, somber music plays quietly in the background, mainly in the surrounds, even more restrained in the front channels, but gradually builds so that by the last act you are engulfed in a sea of full orchestral instruments booming out bassily. There's also much thump in an immersive disco scene and in rock songs (cool in 5.1) and sonic snap to gunshots.
Two featurettes of interviews with cast and crew are illustrated with clips and talking heads. One, focusing on Johnny Depp becoming Whitey, is interesting because it shows Depp getting makeup and prosthetics applied, transforming him before your eyes. A revealing hour-long documentary on the 161/2-year manhunt for Bulger consists of on-camera interviews and photographs. It tells of the continual struggle with FBI higher-ups' resistance to move against and later search for Bulger because the whole unholy affair was such an embarrassment to their corrupted and compromised organization.
Blu-Ray
Studio: Warner Bros., 2015
Aspect Ratio: 2.40:1
Audio: DTS-HD Master Audio 5.1
Length: 123 mins.
MPAA Rating: R
Director: Scott Cooper
Starring: Johnny Depp, Joel Edgerton, Benedict Cumberbatch
In this Goodfellas-wannabe drama, in order to go after and finally bring down the Mafia in the North End of Boston, the FBI are willing to make an "alliance" with South Side–controlling Irish-American gangster Jimmy "Whitey" Bulger. The Feds, in exchange for information about the Italians, are willing to look the other way on the activities of Whitey's gang. This free pass, and having his rivals federally eliminated, allows this scary, unblinking, psychopathic monster to go on a murderous crime spree, muscling in on Mafia territory to grow into the biggest kingpin in Boston. But this is a deal with the devil, for Whitey is also highly skilled at manipulating and criminally involving his Fed handler who's ambitious for the Bureau's praise, promotions, and raises. As Whitey sees it, "It's not ratting, it's business."