Big Sound, Small Box: Procella P6V Home Theater Speaker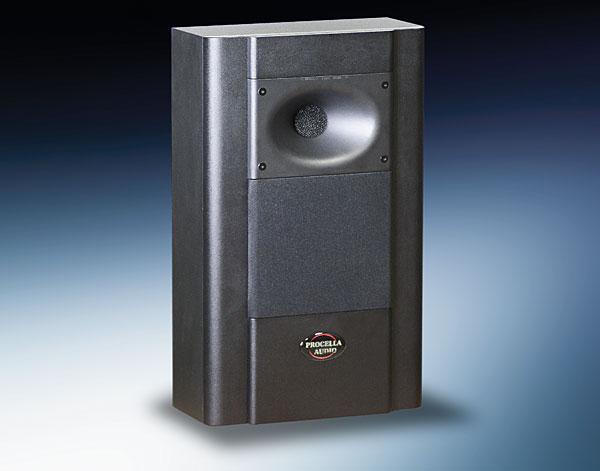 Procella Audio, a Swedish company specializing in high-performance speakers for home theaters, professional studios, and screening rooms, prides itself on building speakers that can play 24-bit/96-kilohertz program material at THX reference levels with full dynamic range. Its latest model—the P6V—can be used for main-channel applications in small- to medium-size rooms 10 to 20 feet deep and is rated to produce a maximum continuous output of 110 decibels, 116 dB peak. Impressive, considering the P6V is only 18.5 inches tall, 11.4 inches wide, and about 5 inches deep, which also means it can be mounted on a wall (brackets included) or, when used as a surround speaker, concealed in an architectural column.
The P6V, $1,599 each, draws on a simple two-way, sealed design with a 6.5-inch woofer and high-frequency driver to deliver its sonic punch. But, instead of a dome tweeter, it uses a compression (a.k.a. horn) driver—the kind found in speakers used in many screening rooms and recording studios. Why a horn? For one, it can handle more power and is considerably more efficient than a conventional tweeter, meaning it can play much louder for a given power input (rated sensitivity is 90 dB). The P6V is rated to handle 100 watts continuous, 300 watts peak. The horn also has a broad dispersion pattern thanks to Procella's custom-designed constant directivity waveguide (note the elliptical depression around the driver in the photo). In addition to improving dialogue intelligibility and delivering smooth highs across the listening area, the waveguide is also said to eliminate colorations associated with some horn designs.
Procella • (310) 572-1070 • procella-audio.com
LATEST VIDEO