The Big Sick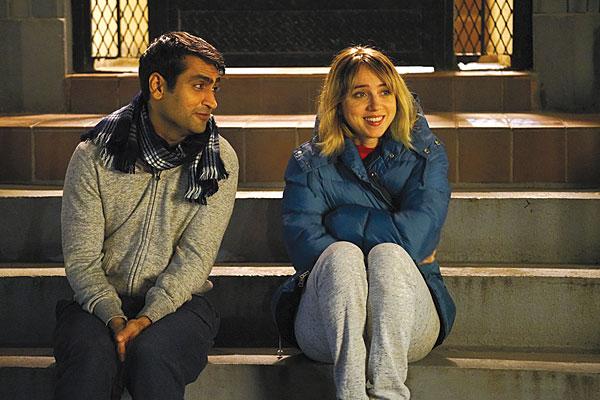 That said, amidst the stationary, unmoving, handheld, uncomposed, flat, natural-light cinematography, murky colors are sometimes capable of rousing themselves, and figures struggling for definition, meaning, or silhouette occasionally emerge triumphant and well defined. Surprisingly, though, contrast always hovers nearby, presenting a wide range of damped-down tones and grayness. There's intermittent detail to prayer mats, sweater stitches, and shirt plaids, while posters, T-shirts, and "Employees Must Wash Their Hands" signs are all readable.
The surrounds are used to disperse musical instruments around the room in an immersive, mellow soundtrack that meanwhile puts the all-important ad-libby dialogue/monologue and atmospherics in the front channels, if not always clear.
Actor/writer Nanjiani and his real girl- friend, Emily Gordon, who co-wrote the script about their relationship, aided by comedy legend/producer Judd Apatow, make the extras highly enjoyable with their unembarrassed candor and humor. Deleted scenes and joke-telling outtakes add to the restrained, relative fun.
Blu-Ray
Studio: Lionsgate, 2017
Aspect Ratio: 1.85:1
Audio: DTS-HD Master Audio 5.1
Length: 119 mins.
MPAA Rating: R
Director: Michael Showalter
Starring: Kumail Nanjiani, Zoe Kazan, Holly Hunter
Shot on a budget of $5 million, acquired for $12 million, and promoted with a $20-million marketing budget, The Big Sick grossed $50 million worldwide and claimed much acclaim. For me, The Big Sick initially came across as The Big Suck, but on a second, more sobering screening, it made sense, building from the characters' youthful shallowness to emotional growth into something like near-human depth. The autobiographical coma-rom-com tells of Chicago standup comedian/Uber driver/Pakistani Muslim Kumail Nanjiani (playing himself). One night he stumbles onto a one-night stand with a white therapist, Emily Gardner (Zoe Kazan), which shockingly turns into interracial coupledom, forcing both to confront cultural differences—arranged marriages, second dates—and abandon the whole idea. The film picks up and really finds its stride once she collapses with a massive infection and is put into a medically induced coma. It becomes even more passionate (in a seemingly uninvolved way) as the incoming grownups—Holly Hunter and Ray Romano—join in the fun, new, serious experiences and interactions. The Big Sick's lack of noticeable story structure creeps up on you, managing—through its seemingly random slices of life presented exceedingly realistically with downplayed drama to avoid the pitfalls of easy artistry or command of cinematic language stuff—to give you Seinfeld driven over a cliff. Backwards.