The Big Short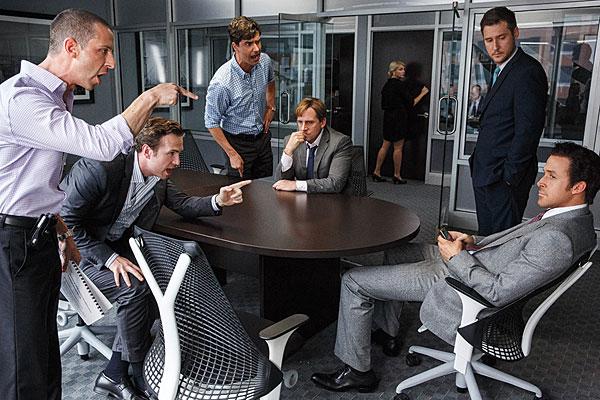 Given his résumé directing comedic fare like Anchorman 2, it's not surprising that director Adam McKay could take the greatest economic disaster in recent history, the financial meltdown of 2008 that led to The Great Recession, and create a funny and sardonic, Oscar-nominated movie featuring several standout performances and which exposes the avarice and hubris that led to this global crisis.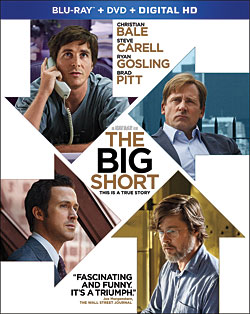 The Big Short was shot in the Super 35 film format with some scenes shot in 4K. Paramount brings it to Blu-ray in a strong AVC 1080p transfer that is filmic, has crisp detail, vibrant color reproduction, and natural fleshtones. This isn't a film with a lot of eye-catching nuance, but the natural look of the end of the first decade of the second millennium is captured wonderfully.
The Big Short may seem like an odd choice to get a DTS:X mix on Blu-ray, but once you hear the mix, you'll be converted. You hear open-space atmospherics and the creak of a chair floating off to the side as Carell is in his therapy group. Additionally, there are lots of solid sound effects throughout the room; the clickity-clack of keyboards surrounding you is a common effect, and music often fills the front and surround channels. The dynamics really make this an outstanding mix. Dialogue is also full and clear. For those who have DTS:X-capable equipment, this one will be a go-to showpiece.
Several featurettes and deleted scenes in 1080p are included, but the standouts are the 14-minute "House of Cards: The Rise of the Fall," which documents in further detail some of the real events that led to the 2008 financial crash; and "Unlikely Heroes:
The Characters of The Big Short," which examines the real-life figures portrayed in the film. A DVD plus UltraViolet and iTunes Digital Copies are also included.
Blu-Ray
Studio: Paramount, 2015
Aspect Ratio: 2.35:1
Audio Format: DTS:X
Length: 130 mins.
MPAA Rating: R
Director: Adam McKay
Starring: Christian Bale, Steve Carell, Ryan Gosling
Based on Michael Lewis' non-fiction book, The Big Short brings together the ensemble cast of Steve Carell (who plays Mark Baum, a character based on the real-life Steve Eisman), Christian Bale, Brad Pitt, and Ryan Gosling as a number of Wall Street moneymen who discover the fraud underpinning the mortgage lending practices of the big banks and independently make moves to profit from the impending collapse of the system. Additionally, the film makes comical use of celebrities, playing themselves, to explain some of the technical financial jargon in layman's terms. Margot Robbie in a bubble bath explaining subprime mortgage-backed securities is my personal favorite.