BenQ PE8720 720p DLP Projector
With all the hullabaloo about the new 1080p projectors, some of them at prices lower than any of us dreamed possible only a few months ago, is there any point in reviewing a mid-priced 720p design?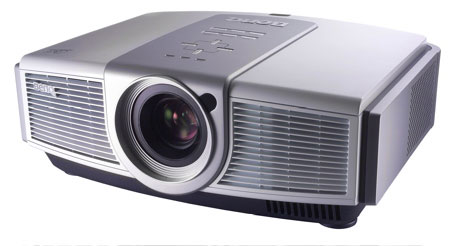 BenQ's PE8720 has been on the market for some time. And at an MSRP of $6,999, it's perilously close to (or even above) the prices of some of the new 1080p models. But we've seen it priced as low as $4,000 online.
In fact, our review of this projector began about a year ago. It was interrupted by a swap for a second sample (a BenQ representative implied that some changes were made in the design, though we were never able to confirm this), a trip back to BenQ's U.S. headquarters for repair (more on this in a bit), and our recent emphasis on completing reviews of a gaggle of new flat panel and rear projection sets. It is, after all, that time of year when visions of a new television under the Christmas tree dance in reader's heads!
In other words, when we began looking at the PE8720 it was in a different competitive market than it is now. Nevertheless, the projector is scheduled to remain in BenQ's line until mid 2007. With performance competitive with some much higher priced 720p designs, it's an attractive buy at its current, real world street prices.
Walkabout
Physically bigger than most of its competition, the PE8720 is also loaded with features that aren't common at its price, including automatic zoom, focus, lens shift, PIP (picture-in-picture), and POP (Picture-Outside of-Picture). The projector's size provides the space needed to eliminate light leakage and allow for relatively quiet operation. In its Whisper mode it is a bit louder than the quietest projectors I've evaluated. Nevertheless, even in its loudest setting- Whisper Off, lamp on 250W- it's still very quiet.
The projector will fill an 87-inch wide (100-inch diag.) 16:9 screen from a distance of 13-17.75 feet. The input set is adequate but not overly generous, including two component connections (one of which is on BNCs and also supports RGBHV video or PC) but (in a limitation it shares with most of its competition) only a single HDMI input.
There is a multi-step iris that is motor adjustable but not dynamic. That is, a motor moves it to any one of 30 steps on command, but once set, it remains at that setting until the user resets it; it does not change automatically in response to changes in the brightness level of the program.
There are five preset picture modes for each input, plus three User Memories for storing your own settings. The primary video controls are Contrast, Brightness, Color, Tint, Filter, and Sharpness. The Filter control appears to have little practical use besides turning on (setting of 1) or turning off (setting of 0) the Sharpness control. If you use the latter I recommend keeping it in the range of -2 to +1.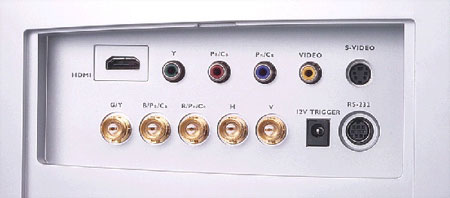 A Color Enhancement control provides individual intensity adjustment for red, green, blue, and yellow, plus white peaking. I left these "enhancements" in their default positions.
There is a Color Temperature control with six settings: Warm, Normal, Cool, User 1, User 2, and Lamp Native. The Advanced menu provides the adjustments needed for calibration of the User settings. There are controls (White Balance) for red, green, and blue at both ends of the brightness range—high (Gain) and low (Offset). The User memories allow you to save separate color temperature calibration settings for each input.
A feature called 3D Color Management, also in the Advanced menu, provides intensity, hue, and saturation controls for the primary (red, green, blue) and secondary (yellow, cyan, and magenta) colors. These may be saved into three different Favorite Color memories, which may then be selected through the Picture menu.
Other useful controls include a Normal or High Altitude setting, Black Level (0 or 7.5 IRE), Keystone correction (avoid it, and with the wide range of the motorized image shift you shouldn't need it anyway), Lamp (200W or 250W), and Edge Optimizing and Clarity (not available for HDMI).
Five aspect ratios are offered: the usual anamorphic (16:9), 4:3, and Letterbox, plus Wide (an uneven stretch mode for filling a 16:9 screen with a 4:3 image), and Real (1:1 pixel mapping with no scaling).
The 8720 also has an excellent remote. It's illuminated, and most of the white, well-sized, and well-spaced buttons have their functions marked in black so that the designations are clearly visible through the red backlighting.
Problems
In my sample there was a small, dime-sized blotch about one-quarter of the way down from the top of the screen near the middle. It was visible only on a very dark screen as a subtly lighter shade of gray, and was hard to spot from my normal 11' viewing distance.
As I approached the end of the review period the projector suddenly refused to lock onto some HDMI sources. I returned it to BenQ and it was returned to me in like-new condition; it worked with the HDMI sources that it had rejected before the repair. (The projector does, however, take longer to lock onto HDMI than many of the displays I have tested).
At first I wondered if BenQ had returned the same sample I had sent them (I had neglected to write down the serial number), since some of the settings were different and the lamp hours had been returned to zero. But the small blotch mentioned above was still there, confirming that it was, indeed, the same unit.
Many of my impressions were formed prior to the HDMI malfunction. Nevertheless, when I got the projector back I completely recalibrated it and spend several days reconfirming my observations by watching old favorites plus a number of newer DVDs and HD DVDs.
Performance
The PE8720 may not be as good in every respect as the best 720p projectors I have reviewed, many of them wearing the labels of more widely recognized brands, but that takes nothing away from it. At half the price of those designs it offers perhaps 80% of their performance. It isn't without flaw, but those flaws never got in the way of the fun I had watching it.