BENQ HT9060 DLP Projector Review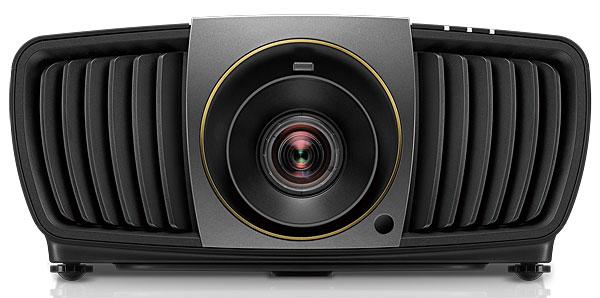 PRICE
$8,999
AT A GLANCE
Plus
Reference-level optics
Maintenance-free LED light engine
Outstanding color accuracy
Minus
Lacks lens memories and motorized adjustments
Disappointing contrast
Limited HDR performance
THE VERDICT
BenQ's latest flagship projector outclasses its predecessor with HDR and wide color gamut sup- port, but contrast performance and HDR handling leave much to be desired compared with the high-end competition.
Back in 2017, I had an opportunity to review BenQ's HT9050 DLP projector, a flagship 4K model featuring a spectacular all-glass lens, an LED light engine, and the latest Texas Instruments DLP imaging device. To sum that review up briefly, I had a lot of issues with the HT9050, which lacked both HDR support and convenience features commonly seen on other models at or near its $8,999 price. Now BenQ has brought out the HT9060, another $8,999 model sitting at the top of its "CinePro" projector line. The HT9060's feature set is very similar to that found on the HT9050, but this time out HDR support is included using BenQ's HDR-Pro technology.
The Goods
BenQ's projector has a well-constructed chassis that's on the larger side for a model at this price point. The HT9060 features the same 14-element all-glass lens that I appreciated in the HT9050. The performance you get from this type of lens is rare even for projectors at twice the HT9060's price. Couple that with the single-chip "XPR" DLP architecture (native resolution of 2,716 x 1,528 pixels shifted optically to deliver 8.3 million pixels that are individually addressed but slightly overlapped) and the result is a clean, crisp image with no convergence issues. Even with my nose to the screen I could barely make out any chroma bleed.
Focus uniformity of the HT9060's lens was near-perfect edge-to- edge—a level of performance I typically see only in much pricier high-end DLP models and offerings from Sony and JVC. One caveat I have is that the HT9060's lens is not motorized, which makes setup awkward in comparison with most competing models. Two small dials on the projector's top are used for lens shift, while zoom and focus adjustments are carried out at the lens itself. Although the manual lens shift didn't bother me too much, focusing a projector at the lens can be problematic and usually requires two people: one to make tweaks and the other to verify the results at the screen. Also, since touching the lens can cause the image to become unsettled, making micro-adjustments becomes difficult. With plenty of other projectors offering motorized lens control (and lens memories for different screen aspect ratios) at half the HT9060's price or less, that's a major nitpick I have with this design.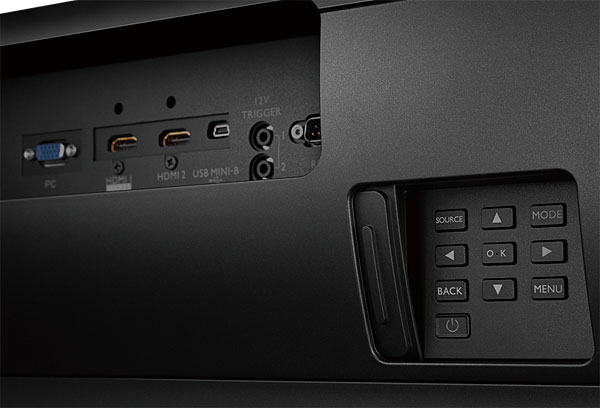 Connections are located in a recessed panel on the projector's side. There are two HDMI inputs, one that's HDMI 2.0 with full 4K and HDR support and a second that's HDMI 1.4-compatible. A PC VGA port is provided, along with two 12v triggers for remote systems, a RS-232 port, a Mini USB connection, and basic buttons for menu navigation. The HT9060's included remote control features back- lighting and direct access for most functions.
While the HT9060 supports Panamorph anamorphic lenses, I did not have the required Paladin lens to evaluate. I did take advantage of the quick zoom dial on the lens assembly, which allows you to jump between multiple zoom positions quickly with little need for focus adjustment. Unfortunately, I did have to adjust the lens shift each time for my 2.35:1 "scope" screen when doing so. (Viewers looking to use the HT9060 with no anamorphic lens and a scope screen will need to take this issue into account.)
Setup and Calibration
The HT9060's menus are nearly identical to those found on the HT9050 with the exception of the new HDR setup options. There are six preset picture modes, including ones for HDR and 3D, along with two User modes that can be adjusted using one of the other picture presets as a baseline. While the settings for each picture mode includes a color gamut selection, that option was not accessible in any mode I could find except for HDR. I would have appreciated the ability to select a Rec. 2020 color gamut in one of the User modes, which would have facilitated the use of an outboard device such as Panasonic's UB9000 Ultra HD Blu-ray player or a madVR or Lumagen Radiance Pro video processor for HDR tone mapping. I did try out the Vivid and Bright modes, both of which use the projector's native gamut instead of standard Rec. 709, but color tracking did not align with Rec. 2020 and blue saturation tracking was extremely poor.
The BenQ provides three modes for its LED-based light engine: Standard, ECO, and Smart ECO. Standard delivered a peak brightness of 24 footlamberts (ft-L) on my 11-foot-wide, 2.35:1 aspect ratio Stewart Studiotek 100 screen, while Eco delivered around 17 ft-L. Smart Eco is a dynamic dimming mode that boosts contrast by modulating the LEDs to provide the same peak white level as Standard mode but with a lower black level. As with other projectors we've tested that use the new XPR-based DLP chips, the HT9060's contrast ratio was pretty low, measuring 836:1 native and 3,770:1 with Smart Eco dynamic mode engaged. Interestingly, that Smart Eco mode number indicates that the BenQ's dynamic contrast ratio is at or below the level Sound & Vision used to measure for native contrast on projectors using the older Texas Instruments DC3/4 DLP chips more than 10 years back.
The BenQ's Cinema preset required little adjustment to achieve accurate results when calibrating for standard dynamic range (SDR) sources. Measured Delta Es (dE) for all color points were below 3—a level considered imperceptible—and saturation tracking was excellent. I ultimately decided to target a 2.2 gamma instead of a BT.1886 (2.4) gamma due to the projector's limited contrast—while BT.1886 perceptually adjusts the gamma curve based on the measured black level, in this case it left the image looking washed out in the darker grayscale range.