Being There: Live vs. Live Streaming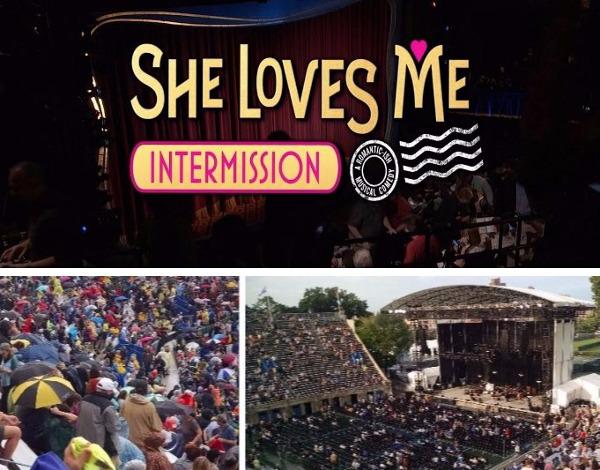 It's hard to miss the variety and depth of live entertainment streaming into the home, some you pay for, some you don't. On the last night of June I paid $9.99 to "attend"
She Loves Me
, an as-slick-as-they come Broadway musical performed by the Roundabout Theatre Company at Studio 54. Minutes before the 8 p.m. curtain I typed my credit card info into BroadwayHD.com and ended up having a rip-roaring time. Put in the form of a pull quote: "The best musical I ever saw in my underwear!"
The following night I paid $172.52 in advance for the privilege of climbing to the top of an outdoor stadium to be part of what was being billed as Paul Simon's last-ever U.S. concert. It was the second night of two sold-out performances in Simon's New York hometown. The weather had been perfect the night before when I was at home turning up the speakers for the She Loves Me big production numbers. This night not so much.
It had rained heavily, and now the audience was being teased with clearing skies and a selfie-ready rainbow. An usher dried off our seats, and we waited for the 7:30 p.m. show to begin. I pulled out my phone to impress Facebook friends with my venue. Approaching 8 p.m., neither Simon nor his band had taken the stage, and the deluge returned. Umbrellas, forbidden by stadium rules, sprouted nevertheless. Ticket holders who had planned better snuggled under tarps. My wife and I, free of accoutrements, got drenched.
Reluctantly, we descended, pushing past throngs sipping $10 beers under the stadium. We slogged our way home.
I wondered whether Simon had started the show. My uncertainty vanished when I pulled up the Periscope app. While attendees had been told they couldn't bring professional cameras, phones were something else. At least a dozen video feeds were streaming freely out of Forest Hills Stadium to the world. Videos were available to replay even after the concert ended. Clips ranged from 12 seconds to more than 13 minutes. A video might contain one or two songs from the performance that a fan had captured, so you had to click through the list to experience different parts of the concert.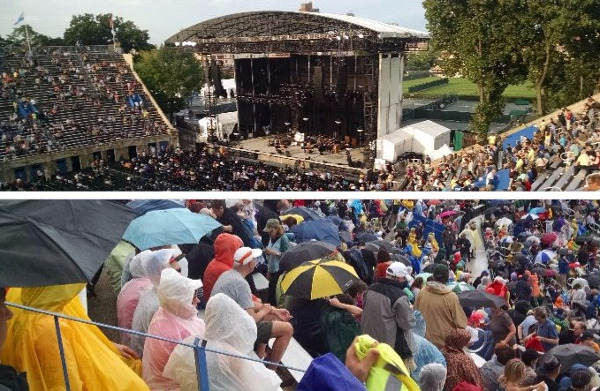 You could choose from people whose phones were positioned directly in front of the artist with views better than the one I had in person. You could choose phones from higher up in the stadium with vistas encompassing the full stage against the night sky and its bursts of lightning. Though some videos were clearer than others, all were low-res and suffered from occasional signal loss. Yet the great equalizer was sound. The stadium speaker system and acoustics were excellent, and it didn't matter where someone's phone was situated to clearly pick up Simon's vocals, guitar and band. I plugged in headphones and spent the next hour reveling in the show I almost stayed for.
I heard Simon, a graduate of Forest Hills High School, address the audience as "my rain-soaked friends." I nodded to the beats of Me and Julio Down by the Schoolyard and You Can Call Me Al. I grew teary-eyed over Homeward Bound and Sounds of Silence.
It occurred to me that if I had paid $100 a ticket to see She Loves Me in person, I might have felt cheated by the intrusion of broadcast cameras being deployed to capture the multiple angles, close-ups, and wide views for the live stream. After the theater audience was chided in a preshow announcement to turn off their phones, management went on to commit its own mischief by staging a broadcast as intricate as The Sound of Music Live! The difference was that the NBC production occupied a sealed sound stage while She Loves Me was performed in front of a packed house where people are asked to suspend their disbelief. See camera #3 pan right. Watch camera #4 move in. Yeah.
Viewed from home there were no such distractions. Following some audio interruptions near the beginning of the streamcast, I received She Loves Me with smooth stereo sound and a glitch-free, high-definition picture. Starring Laura Benanti (The Sound of Music Live!), Zachary Levi (Chuck) and Jane Krakowski (Unbreakable Kimmy Schmidt), the revival focuses on two characters who don't get along in person but fall in love as anonymous pen pals. The plot is well trodden. Think the movie, You've Got Mail, and the play, Daddy Long Legs. The latter in fact streamed for free last year. (See Live Theater to the Home Theater.)
I was able to simultaneously watch She Loves Me on my computer and iPad, each with its own play/pause buffer. But I wasted time trying to get the show to appear in my home theater. It turned out that the on-demand fee does not include the capability to enjoy the live stream on your television and sound system via an Apple TV or Roku device. To use these media receivers, a BroadwayHD subscription ($169.99 a year) is required or as the company states: "Subscribe now for great Broadway content in the comfort of your living room!" Next time I'll read the small print.
Maybe if at the Paul Simon concert someone was standing in front of me pointing a phone at the stage, I would have asked him to sit down. But I don't think so. Stadium seating under a fickle summer sky is entirely different from a Broadway theater. Also, at a concert sight lines don't matter as much as the music. I'm grateful that audience members who stuck through the tempest were eager to whip out their phones and share their enthusiasm with wet blankets like me.