BDI Makes Your Gear Disappear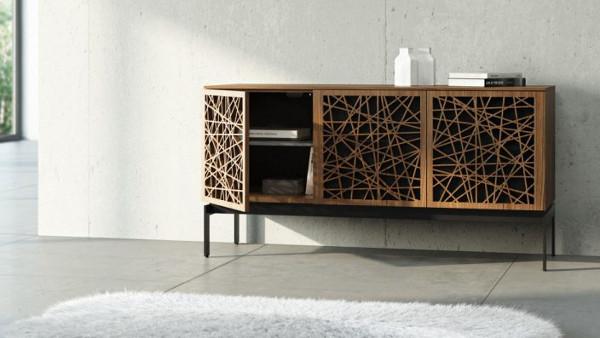 For every enthusiast who wants to shine a bright light on his stack of gear there's another who would rather hide it away, maybe in a nice piece of furniture.
With that in mind, AV furniture specialist BDI came up with what it calls the "hidden sound" media cabinet, offered in a variety of styles through four distinct series. All feature acoustically transparent doors, adjustable shelves, integrated cable management, and flow-through ventilation.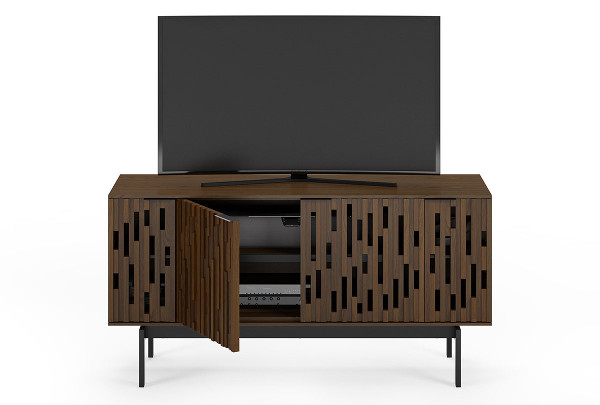 The new Code series sports an utterly unique look and includes a soundbar platform that can accommodate speakers up to 38 inches wide. The cabinet comes 62 or 80 inches wide, built to support TVs with screens up to 65 or 82 inches, and is finished in medium or dark walnut. Respective pricing is $2,399 and $2,699.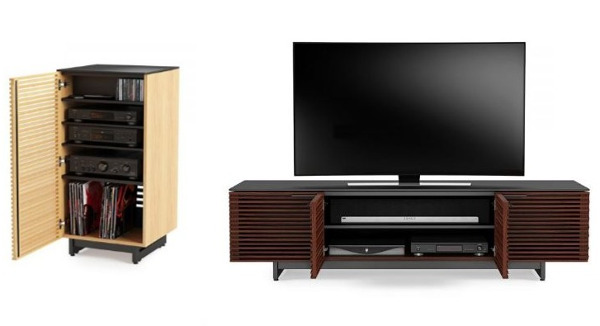 Corridor series cabinets are distinguished by slatted hardwood doors and available in seven sizes, including a vertical "stereo rack" form factor (model 8172, left in photo) at prices ranging from $1,679 to $2,399. Four of the models feature hidden wheels. Finish options are charcoal stained ash, white oak, or chocolate stained walnut.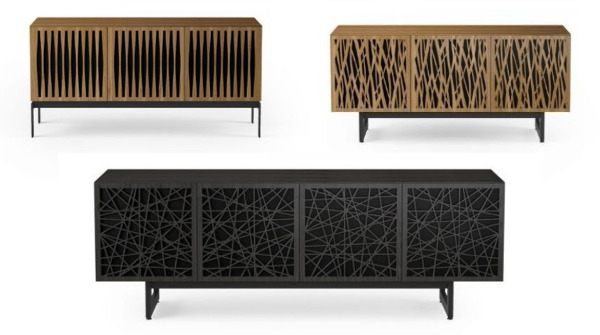 Elements series cabinets boast laser-cut doors, available in three distinctive patterns — Tempo (top left), Wheat (top right), and Ricochet (bottom) — finished in either natural walnut or charcoal stained ash. The four-door model 8779 ($2,599) and three-door model 8777 ($2,299) come with a full-width console base or a lower profile media base with hidden wheels.

Octave series cabinets sport a super clean look with perforated gray steel doors affixed to a wood cabinet finished in toasted walnut or drift oak. Two versions are available: The three door model 8377 ($1,779) and the four-door model 8379 ($2,099).
For more information, visit bdiusa.com.