Barry Lyndon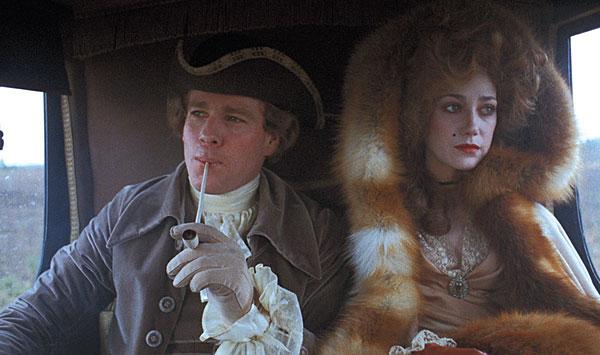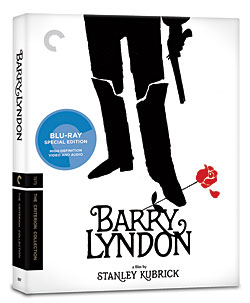 The ensemble cast looks as circus-like as many Fellini films, with the exception of Barry Lyndon himself, played by Ryan O'Neal, then at the peak of his fame, cast no doubt to lure the mass audience (to no avail), but the discordance works: His flat American speech (in early scenes, he tries an Irish brogue but thankfully soon dropped it), contrasted with the aristo-Brit accents all around him, marks him clearly as a man out of his depth, despite his pretensions.
Still, the picture is the main thing in this film. The blend of light, shadow, and color are wondrous—in landscapes, battle scenes, and candlelit interiors, the last thanks to Kubrick's special mounting of a Zeiss f/0.7 lens, designed for NASA and one of only ten ever made.
Criterion's 1080p transfer, struck from a 4K scan of the original camera negative, captures his wonders with fine starkness and beauty. Film grain might be a tad in excess, but no more than a tad. Kubrick recorded the soundtrack in mono, and it is faithfully reproduced, but a 5.1 surround track, remixed for the occasion, sounds natural and properly spacious. Special features are entertaining and informative; I could have used more.
Blu-Ray
Studio: Criterion Collection, 1975
Aspect Ratio: 1.66:1
Audio Format: DTS-HD Master Audio 5.1, uncompressed mono
Length: 185 mins.
MPAA Rating: PG
Director: Stanley Kubrick
Starring: Ryan O'Neal, Marisa Berenson, Patrick Magee
When I first saw Stanley Kubrick's Barry Lyndon, as a college student, I was bored and, beyond that, puzzled: such a static set piece from the maker of Dr. Strangelove, 2001, and A Clockwork Orange. I wasn't alone: Box office was middlin', critics were mixed. The film now strikes me as a masterpiece, although a demanding one, as many masterpieces are. Based on Thackeray's mid-19th-century novel about the rise and fall of an Irish upstart seeking to connive his way into British high society, it's a string of gorgeous pictures, as gorgeous as many paintings in a museum, and Kubrick modeled many shots on paintings by Hogarth, Gainsborough, and other artists of the era. Many criticized Kubrick for this indulgence, complaining that the film felt like a museum. But the paintings that inspired Kubrick (and, by the way, also inspired Thackeray) themselves told stories—about love, jealousy, class, rage, sloth: all the human emotions. Kubrick's ambition was to bring them alive, filming on location, in the fields, huts, and palaces where their people actually lived, surrounding them with a soundtrack of music from the time—Irish airs, Handel, Mozart, and Vivaldi. Critics, perhaps distracted by this spectacle of sight and sound, also failed to notice the film's rich sorrow, suspense, and dark comedy. (The excruciatingly slow duel scene is amazing.)