Back to the Future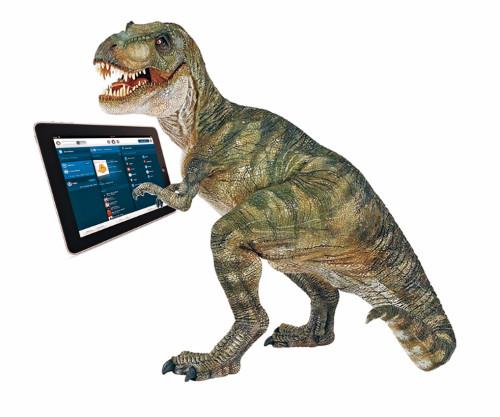 Once Cutting-Edge Systems Are Starting to Look like Dinosuars
Having been a custom installer since 1998, I've installed more than my share of housewide audio systems. And, as you can imagine, these systems have changed and evolved quite a bit over the years.
Long before the time of smartphones and tablets, these basic housewide audio distribution systems originally meant a centralized stack of gear including various source components—CD changers, AM/FM tuners, cable boxes, etc.—and amplification—either a single amp connected to a speaker distribution device or a multichannel amp—with speaker wiring to volume controls in each room controlling the in-room speakers.
Over time, these basic systems evolved into more advanced designs including keypad and touchscreen control allowing different source selection and playback in different areas (multisource/multi-zone) at the same time. These "smart" controls even offered local control over things like skipping a song or disc or seeking to the next radio station or preset. And at the time we installed some of these systems, being able to press a button on a keypad in a room on the other side of the house from the electronics that turned on the stereo, selected a source, got a CD playing, and could skip tracks was damn near Arthur C. Clarke-level magic. Seriously, every time I terminated a Cat-5 cable, dumped the programming into the system, and then pressed a button on a keypad and it worked, I felt a like I had just performed some mystical Dark Art.
But fairly quickly, the way we listened and interacted with our music changed, and this blind, one-way control was no longer enough. Just haphazardly moving up, down, and hitting select on your iPod offered about the same chance of finding the song you wanted as hitting the Super Lotto.
Today, people expect to have full, two-way metadata feedback for whatever they're listening to. They want to see the album art, see what's coming on next, be able to create playlists on the fly, and want to control their music portably with cell phones, laptops, and tablet devices. And if you're buying a new distributed audio system, there are lots of cool choices from the likes of Sonos, Apple, NuVo, CasaTunes, Autonomic Controls, Cambridge Audio, and more. But now these once cutting-edge systems are starting to look like dinosaurs.
But if you own an older audio system, bringing your listening into the 21st century definitely isn't a scrap-it-all and start over proposition. In fact, upgrading what you have to take advantage of all this cool new streaming and control tech isn't difficult and doesn't require dropping a ton of dough. Lately, several of our older, legacy volume-control-only and Elan, Niles, and Russound owners have asked how they can upgrade their systems, and it's surprisingly simple and affordable. While we've been using Sonos to augment these systems, you could substitute another source just as easily.
Many of these early systems were of the six-source/six-zone variety, meaning they routed up to six sources to six listening areas. For the least investment, simply add a Sonos Connect to one of these systems. With both analog and digital audio outputs, the Connect easily, umm, connects to any existing system. You'll continue using your keypad/touchscreen to turn the room on, select Sonos as the listening source, and adjust volume, but you'll control all of the Sonos' streaming music from your iPhone/iPad, Android, laptop, etc. After experiencing all that streaming has to offer, many people expand their listening options by adding additional Connects, such as giving "his and her" listening options.
If your goal is ditching the on-wall controls altogether and going exclusively portable, that's easily done by replacing the existing amplifier with Sonos Connect:Amps or a NuVo P3100 or P3500 that incorporates three zone players and amps into a single 1U-sized chassis. You'll still utilize all the existing wiring and speakers, but just modernize the electronics. You can cover over the existing wall controls, or leave them in place as a memento for future generations studying our civilization.
Another great benefit is that once you add a wireless audio system like Sonos or NuVo, it's easy to add additional zones of music to other areas of your home!