The Avengers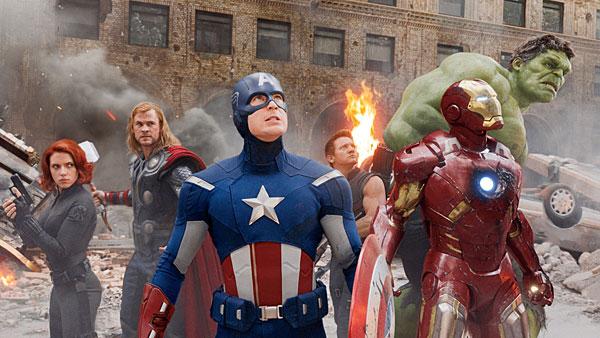 A slam-bang, action-loaded extravaganza, The Avengers grabbed last summer's box office and ran away with the receipts. Fans ate it up and made it by far the biggest smash hit of 2012.
At almost 2.5 hours, some viewers may find the film a little exhausting. The action rarely flags, but when it does, we get arguably the best parts of the movie, including almost any character-driven scene with Robert Downey Jr.'s Iron Man, Samuel L. Jackson's Nick Fury, and/or Tom Hiddleston's Loki. Theirs are the best performances and give The Avengers a depth that action alone never could. But add that action, together with more than a helping of humor throughout, and you get a well-crafted, superbly directed, terrifically entertaining ride.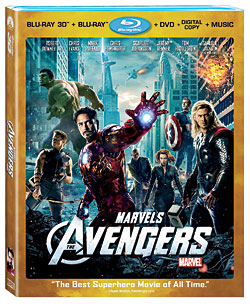 The video transfer is reference quality. The 1.85:1 aspect ratio was designed for IMAX presentations, and while it works fine for most displays, users with a 2.35:1 constant-height screen may find it a bit less awesome than they would prefer, since it will be restricted to the 16:9 center. The production's color palette is bright but not overdone, and the resolution is impeccable. On a good display, you'll see every thrust, kick, parry, smash, crunch, uppercut, hammer fling, and arrow flight. The 3D is crisp and immersive, but I'm not of one mind in my preference here. Your 3D glasses had better be comfortable for this very long ride, and the 2D version, as usual, is brighter, punchier, and more colorful.
The audio is aggressive, with explosive effects, clear dialogue, an appropriately heroic though not particularly subtle score, and powerful but not overly deep or crisp bass. For a recent, superior soundtrack, check out Prometheus.
This four-disc set is packed in a two-disc case with the center grips slightly oversized to hold two discs per side—not the most convenient arrangement. The extras include a Second Screen backgrounder accessible on an iPad, iPhone, or computer; making-of features; a one-shot, sort-of mini-sequel to the film's final battle; a gag reel; deleted scenes; a music video; and an audio commentary track featuring director Joss Whedon.
Blu-Ray 3D
Studio: Disney, 2012
Aspect Ratio: 1.85:1
Audio Format:
DTS-HD Master Audio 7.1
Length: 143 mins.
MPAA Rating: PG-13
Director: Joss Whedon
Starring: Robert Downey Jr., Chris Evans, Mark Ruffalo, Scarlett Johansson
When Marvel Comics' gang of superheroes—Captain America, Thor, Iron Man, The Hulk, Black Widow, and Hawkeye—get together after the first four of them starred in their own movies, you know something big is up. And it's no surprise that Loki, Thor's adopted brother, who teamed up with an army of nasty aliens, is behind it.