Avantgarde's $40,000 G2 Duo Omega speakers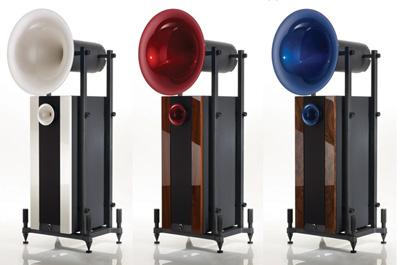 Just because CES ended two weeks ago doesn't mean there still aren't some funky, expensive speakers to check out. For example,
Avantgarde's G2 speakers
combine a huge horn-shaped speaker with a huge block-shaped subwoofer into a large, loud, pricey beast of a loudspeaker.
The G2 line features a handful of different models, the most expensive of which is the G2 Duo Omega. The Duo Omega boasts a horn speaker with a range of 170 t0 20,000 Hz, and a 250-watt powered subwoofer with dual 10-inch drivers that can pump out bass at 20 to 350 Hz. All that power will cost you, though; the G2 Duo Omega costs 3,700,000 yen, or about $40,500. If that seems a little excessive, the less powerful G2 Uno and G2 Duo are available for about $24,100 and $32,900 respectively.
— Will Greenwald
[Source: Newlaunchers via Gizmodo]
WHERE TECHNOLOGY BECOMES ENTERTAINMENT