AudioSource S3D60 Soundbar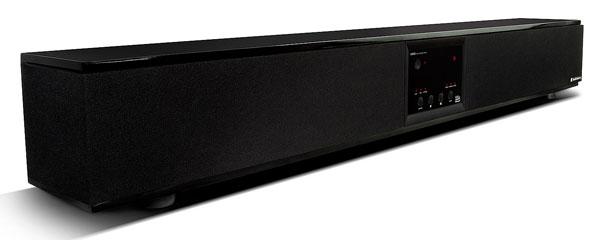 Price
: $350
At a Glance
: Disappointing sound quality • Minimal feature set • Awkward wall-mounting provisions
AudioSource might not be a household name, but anyone who has been involved in the world of custom A/V installation for any length of time will be familiar with the Oregon-based manufacturer's extensive line of in-wall speakers and multi-room audio-distribution electronics. Given AudioSource's expertise with compact speakers and amplifiers, combining the two in the form of a soundbar seems like a smart move for the company.
The S3D60 under review here is a single-piece, 2-channel soundbar, which means it must rely on virtual surround technology to impart a surround-sound experience. In this case, AudioSource is using a third-party solution called Sonic Emotion Absolute 3D. Given the S3D60's relatively hefty 5-inch cabinet depth (6 inches if wall mounted) and width of 38 inches, this soundbar is scaled to match TVs measuring roughly 46 inches and up.
Features
AudioSource has packed a total of eight speaker drivers into the S3D60's cabinet, including six 3-inch drivers for the upper frequencies and two 4-inch woofers for the lower. According to the company, each of the six main drivers is individually powered by a 20-watt amp channel; the two woofers split a single 40W channel.
The audio-input suite is basic, including one optical digital, one analog stereo (RCA), and one 3.5mm stereo input. There is a single line output for use with a subwoofer.
Most soundbars employ some type of virtual surround circuit to at least widen the perceived left-right stereo spread beyond the confines of the cabinet width, if not to simulate a full-blown wrap-around soundfield. Sonic Emotion Absolute 3D uses wave-field synthesis to create an immersive effect that impressed Online Editor Scott Wilkinson at the 2011 CES. The S3D60's specific implementation of the Sonic Emotion technology consists of three presets labeled Music, Movie, and Normal. No bypass switch or user-adjustable parameters are provided; you just select the mode that sounds best to you and get on with the show.
The S3D60 can seem downright bare bones compared to some of its competitors. For example, there are no HDMI, coaxial digital, or front-panel inputs. You'll also look in vain for an auto power on/off function, remote-command learning capabilities, or tone controls, all of which are features I've found useful on other soundbars.
Ergonomics
Glossy, reflective surfaces are always problematic in a home-theater environment, and the S3D60's cabinet is covered with them. In a typical setup with the TV at seated eye-level and the soundbar mounted just below the TV, the speaker's gloss-black top panel mirrors the screen, which is extremely distracting. Other room lights reflect off the shiny front panel as well as the two strips of gloss-black cabinet material that peek out above and below the grille, which is (mercifully) matte-black fabric.
The front-panel controls are minimal. In addition to power and volume up/down, there is a single button to step through the three inputs and another to cycle through the three surround modes. The latter two buttons are accompanied by blue LED indicators that remain continuously lit during operation. If this wasn't a review sample, I would have immediately covered these distracting lights with tiny pieces of black tape.
Other than the aforementioned LEDs, there are no other front-panel displays or indicators of any kind. In some cases I might consider this a bonus, but here the volume buttons on the front panel and remote adjust the level in overly large increments, especially at the lower end of the scale. With nothing to indicate that IR commands have been received, much less to display the current level, "riding the gain" to keep the volume dialed in just right during a show got very frustrating.
At just shy of 5 inches, the S3D60's cabinet is already relatively deep, especially when compared to the ultra-thin flat-panel TVs it's likely to accompany. And plan on adding another inch to the total depth if you decide to wall-mount this soundbar, because the cabinet has molded-in wall-mounting extrusions that force an unattractive 7/8-inch gap between the wall and the back panel.
Unlike the Vizio VHT215 I recently reviewed, which included a convenient full-size paper mounting template and separate brackets that allow you to hang the speaker like a picture, wall-mounting the S3D60 is a mini project worthy of Home Improvement's Tim "the Tool Man" Taylor. It's up to you to measure and drill two holes exactly 16 inches apart and perfectly level, while estimating the correct offset to locate the top of the speaker cabinet the right distance below the TV. Oh, and don't forget to use heavy-duty hardware, because this baby weighs 17 pounds.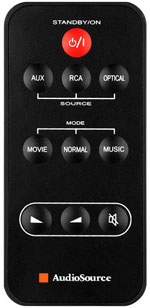 Last but not least, the remote is one of those credit-card-sized jobbies that might be okay if provided with an iPod docking station, but it seems out of its depth in this context. It's flimsy, unlit, and all but guaranteed to disappear into the sofa cushions on a regular basis.
Setup
The S3D60 doesn't really require any formal set up. Just plug in the AC adapter, connect your audio cable of choice, turn on the power, and select the desired input. There are no channel levels or parameters to adjust, but if you must fiddle with something, feel free to flip between the three surround mode options.
Performance
I knew something was wrong from the moment I first fired up the AudioSource, and it didn't take long to identify exactly what that something was. Sitting down and surfing through live channels and the current menu of recordings on our Verizon FiOS HD DVR, I quickly realized that the S3D60's overall sound quality was noticeably muddy. Jon Stewart, Rick Steves, Bill Moyers, Jay Leno—every male voice I tried sounded "chesty," as though a sudden epidemic of head colds had swept through TV Land.
LATEST VIDEO