AudioQuest DragonFly USB DAC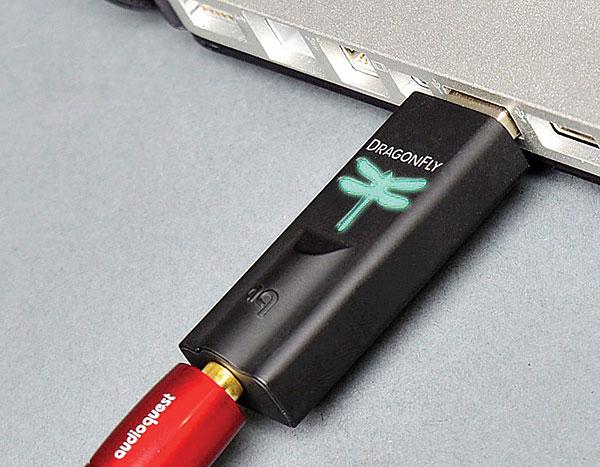 Price
: $99 (reduced from original price of $249; version 1.2: $149)
At a Glance
: Size of USB thumb drive • Up to 24/96 resolution • Minijack analog out
The AudioQuest DragonFly USB digital-to-analog converter ($249) and the B&W Society of Sound music download service ($59/year) arrived in my listening room at about the same time. They were made for each other: B&W's 24-bit FLAC files gave the DAC a better chance to strut its stuff than any CD-quality or lossy audio file at my disposal. And the USB DAC enabled the high-resolution files to do an end run around the awful soundcard in my PC.
Bowers & Wilkins, the loudspeaker maker, launched the Society of Sound in 2008 to counter the crude lossy music files that increasingly dominate listening time with lossless material that flatters B&W's high-resolution speakers. Releases lean toward the classical side, with forays into folk, rock, and the occasional genre-bender. Albums are available in three formats: 16-bit Apple Lossless and two flavors of FLAC, 16 and 24 bit. While Apple Lossless is the most iPod/iPhone-compatible choice, the 16-bit files are limited to CD quality. To obtain the highest resolution, go for 24-bit FLAC. Most files have a sampling rate of 48 kilohertz and a few are 44.1. Note that several download services offer sampling rates up to 96 or 192 kHz, but at higher per-album cost. The Society costs $59 per year, which comes out to about five bucks per month or three bucks per album if you grab it all.
Why invest $249 in a USB DAC like the AudioQuest DragonFly when your computer can output an audio signal by itself? The computer, by its very nature, is always multitasking, making it inattentive to the timing of the zeroes and ones that make up digital audio signals. And when the timing suffers—an effect called jitter—the sound suffers with it. My 5-year-old Lenovo A61e Windows XP desktop is an especially egregious audio abattoir.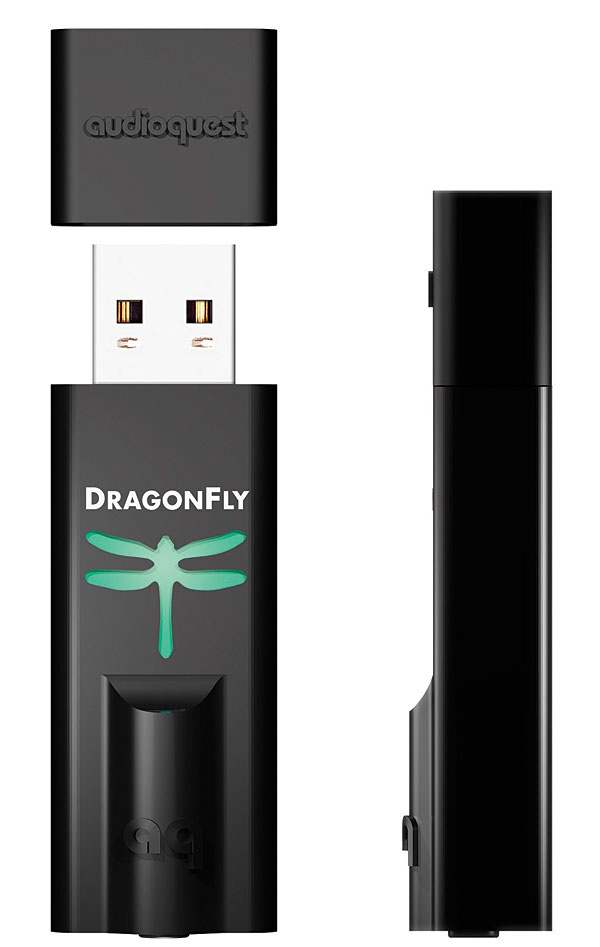 The DragonFly DAC takes the form of a thumb drive with a USB plug at one end and an eighth-inch minijack at the other. It can handle anything from low-quality MP3 to high-quality 24-bit/96-kHz audio signals. But what's special is the way it handles jitter. A USB DAC can operate in adaptive mode, which relies on the computer's feckless USB-bus clock; or asynchronous mode, which allows the DAC's clock to command the delicate timing of the digital audio transfer. Gordon Rankin, who pioneered the asynchronous mode for Wavelength Audio, designed the DragonFly circuitry for AudioQuest. Proponents of the asynchronous mode say it provides greater jitter reduction.
The DragonFly has two internal clocks optimized for the sampling rate of whatever signal feeds it. It can handle four sampling rates, and its dragonfly-shaped indicator glows in a different color for each one: magenta for 96 kHz, amber for 88.2, blue for 48, green for 44.1, and red for standby. The highest sampling rates, 176 kHz and 192 kHz, are not available, although the computer or player software will automatically downconvert to 88.2 or 96 when it sees the DAC. The DAC also has a built-in 64-position analog volume control that's controlled by the computer's main VC. The signal-degrading digital VC in most music player apps is defeated as long as it's set to max to keep it out of the way.
The DragonFly is designed to feed powered computer speakers as well as 'phones, but its makers also saw it destined to feed full-blown audio rigs. So I posed it a tougher challenge: the digitally unprocessed analog input of my estimable Peachtree Audio Decco2 amplifier with Era Design 4 speakers and a Pinnacle Baby Boomer subwoofer. This is my everyday desktop system.
After a few warm-ups, my first formal experiment was a comparison between the PC's analog output and the DragonFly with Punch the Clock by Elvis Costello & the Attractions, ripped to MP3 at a near-CD-quality 320 kilobits per second. When the DragonFly butted heads with the computer soundcard, the latter lost within seconds. It was a contest between clean, smooth, and dynamic versus dirty, rough, and lifeless.
I stepped up to B&W's 24/48 files of orchestral works played by the London Symphony Orchestra, including Bernard Haitink conducting the works by Beethoven and Bruckner and Valery Gergiev conducting works by Debussy, Rachmaninoff, and Ravel. The DragonFly had better imaging, greater depth, richer texture, could play louder without inducing fatigue, and—when the London Symphony tympanist got to work in the more rambunctious passages of Beethoven's Fifth—a solid bass that made me suspect my (carefully dialed-in) sub had gotten into performance-enhancing drugs. When the content said jump, the DragonFly made sure my system jumped.
I repeated the demos with my most unimpeachable headphones, the AKG K240. The DragonFly gave the Attractions' rhythm section more punch. Horn charts on "Let Them All Talk" sounded more like horns, less like synthesizer. The vocal on "Shipbuilding" was bigger, warmer, more detailed, and more dynamically defined. With Beethoven's Fifth, switching from soundcard to DragonFly was like going from a third-generation audiocassette dub to pristine vinyl.
If your desktop system or headphones are hankering for high-resolution audio, both the AudioQuest DragonFly and B&W's Society of Sound offer highly affordable and functional points of entry. The fussiest audiophiles should keep in mind their sampling-rate limitations—the DragonFly won't play native 192 kHz, and the Society doesn't extend to even 96 kHz. But they have unique advantages: The DragonFly is a high-performance USB DAC that'll fit in your pocket. The Society of Sound has some unique releases, and its pricing practically makes it the poor man's HD download service. Separately and together, they were a revelation to me.