AudioQuest Adds Lower Priced AC Power Conditioner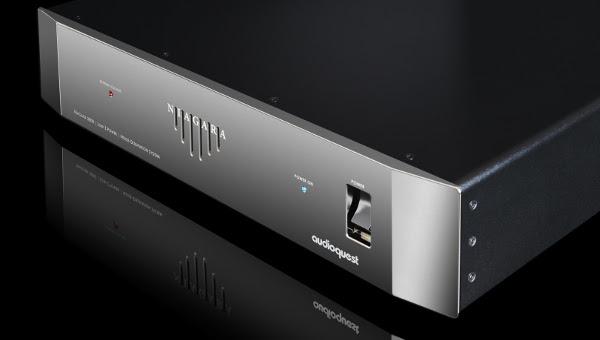 AudioQuest has expanded its Niagara Series of AC power conditioners with a new model that incorporates key noise-reducing technologies at a "more accessible price."
Suitable for two-channel systems and custom installation applications, the new Niagara 3000 combines the company's patented Ground-Noise Dissipation System with transient power correction, "extremely wide-bandwidth Level-X linear filtering," surge protection, and other noise combatting technologies developed over the past 20 years in a rack-friendly component that costs $3,000 (rack ears included).
The system forgoes the patented dielectric-biased symmetrical power isolation transformers used in the flagship Niagara 7000 ($9,500), and provides a lower peak current reserve of 55 amps (up to 25ms) for connected power amplifiers; the Niagara 5000 ($5,000) and 7000 models have a 90-amp reserve.
Further economy was achieved by equipping the Niagara 3000 with two high-current outlets and five Level-X-filtered outlets instead of the four/eight outlet configuration of its pricier siblings; all outlets are made of silver-plated beryllium copper. And like the higher priced systems, the 3000 does not include an AC power cable (AudioQuest naturally recommends its own AC power cables, 14 AWG or larger).
AudioQuest's noise-dissipation technology is said to lower distortion and heighten the resolution of audio and video signals. The Level-X filtering is optimized for varying line and load impedance to "assure superior resolution for audio, video, and digital signals," while RF filtering capacitors dissipate AC line noise. Solid, low-resistance wiring and filter inductors are also deployed to dissipate distortion-causing radio frequencies.
The Niagara 3000 is built to withstand AC surges and spikes up to 6000V/3000A and will shut itself down when voltage rises around 17% above optimal AC-input levels; it automatically resets itself when safe levels return.
Noise dissipation is specified as 24 dB from 6 kHz to 1 GHz and maximum input-current capacity as 15 amps RMS.
For more information, visit audioquest.com.