Audio-Technica Embraces the "Art of Analog" on its 60th Anniversary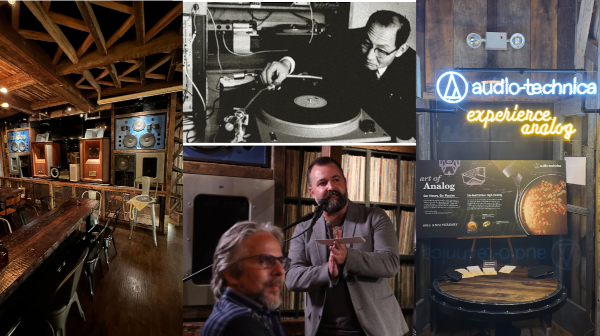 Hideo Matsushita was determined to bring the warmth of analog music listening to the largest audience possible so he began staging "LP concerts" at Tokyo's Bridgestone Museum of Art in the early 1960s at the urging of the museum's director. The events were more popular than anyone could have imagined, allowing him to turn his passion for music into a business. So, in 1962, from his small apartment in Shinjuku, Japan, Matsushita founded Audio-Technica and began selling the AT-1 and AT-3 phono cartridges he developed to audio equipment makers. The company grew quickly and, before long, he was able to move to larger headquarters in Machida, where the company is located today.
Over the years, Audio-Technica expanded from phono cartridges into the design and manufacture of turntables, microphones, headphones, and music mixers, some of which are based on digital technologies, but analog remains a central focus of the company.
To celebrate the accomplishments of its founder and the milestone the company's 60th anniversary, Audio-Technica followed up its recent introduction of the limited-edition AT-MC2022 Dual Moving Coil phono cartridge and flagship ATH-W2022 closed-back wooden headphones ($9,000 each) with a special "Art of Analog" event in New York City earlier this week. Hosted by A-T's Gary Boss and Peter Baker, the event was held at the Turntable LP Bar & Karaoke Club, a gastropub in midtown Manhattan's vibrant Koreatown featuring a curated interior lined with vinyl records, album covers, and vintage stereo equipment as well as an extensive collection of vintage radios from the 1950s and 60s.
The highlight of the event was an all-star panel discussion with top recording engineers punctuated by music played over a vintage stereo system anchored by Audio-Technica's $849 AT-LP7 turntable and featuring stereo pairs of Tannoy's Westminster speaker and JBL Professional Model 4350 and Model 4612B speakers powered by a Crown XLS 602 amplifier (with a Crown DC300A on silent display).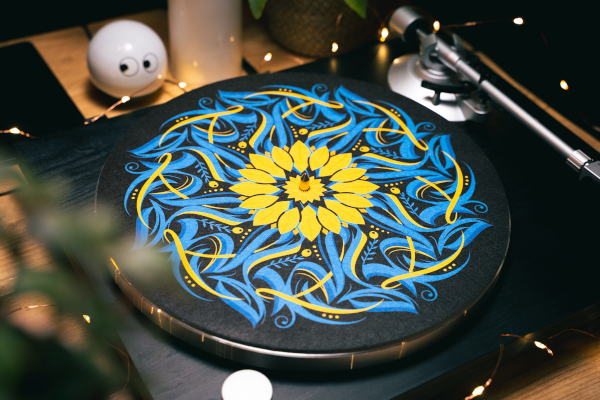 Baker spoke about Matsushita's commitment to forging human connections through music and bringing high fidelity sound to the masses at affordable prices, starting with the AT-1 — hi-fi's first truly affordable high-quality phono cartridge. He then introduced moderator Justin Colletti, a mastering engineer at Joe Lambert Mastering, who in addition to running the music production focused website SonicScoop.com has authored hundreds of articles on the art, science, and business of sound and music. Taking the mic, he discussed the differences in both working with, and listening to, music using analog versus digital technology and spoke of the need to get away from the many computer screens that dominate our lives, including those related to producing and listening to music.
Colletti also spoke fondly of the ritualistic experience of dropping a needle onto a vinyl record or cueing up a CD before introducing the esteemed panelists: Chris Mara, Lenise Bent, and "Senator" Jimmy Douglass — each of whom explored the nuances of analog music recording.
Mara is the founder of the Nashville recording studio Welcome to 1979 and has worked with such artists as Pete Townsend, Applewood Road, and Jason Isbell. As an engineer, producer, and educator, Lenise Bent has worked with, among others, Blondie, Steely Dan, and Supertramp and was the first woman to record a RIAA-certified Platinum album. Jimmy Douglass, owner of the Magic Mix Room recording studio in Miami, gained prominence as an engineer and music producer while working with countless hip-hop artists and producer Timbaland in addition to jazz fusion artist Billy Cobham, soul music legend Aretha Franklin, and many rock-and-roll artists, including AC/DC, Foreigner, Hall & Oates, Led Zeppelin, and the Rolling Stones.
A fascinating discussion ensued. Bent expressed her concern that with the advent of digital and the ability to do virtually an unlimited number of retakes, the music sometimes loses a bit of its emotion. Some mistakes should perhaps not be fixed, she said. Instead, the goal should be to create not the perfect recording, but the right one.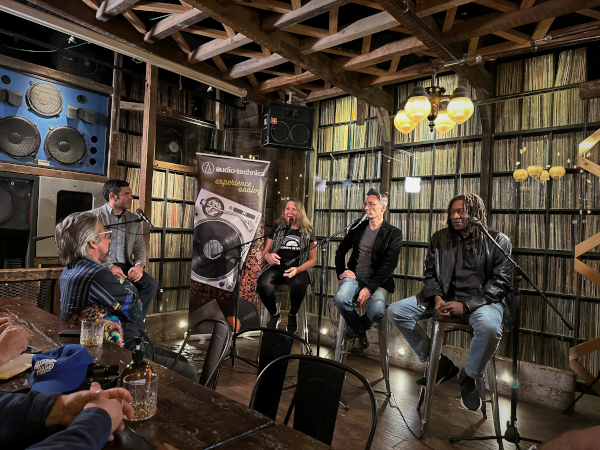 Douglass agreed with Bent, stating that the ability to almost infinitely manipulate a recording can lead to the overthinking and "over-crunching" of its production, thus removing its energy. Douglass asserted he can work faster with analog equipment and can often accomplish what he wants with "one or two touches." With digital gear there is too much to know. He did admit, however, that in complex situations, analog can become awkward, recalling an occasion where he needed four sets of hands to work a single analog mixing console.
Mara said something that each of the panelists wholeheartedly agreed with — the optimal approach is to not to reject analog or digital but to work in the domain that works best for the project and circumstances.
After the panel discussion, attendees were treated to a Korean buffet and each received an Audio-Technica record cleaner and limited-edition turntable slipmat, featuring artwork by the Ukrainian-based calligrapher and lettering artist Eugene Berd. The slipmat is available on audio-technica.com for $14.99. All profits from its sale will be split between the largest children's hospital in Ukraine and the Ukrainian animal charity UAnimals.
The "Art of Analog" event is just one part of Audio-Technica's ongoing 60th anniversary celebration. In addition to introducing the AT-MC2022 phono cartridge and ATH-W2022 headphones, the company has announced a special anniversary donation program in support of its longstanding relationship with Playing for Change, a global movement created to inspire and connect the world through music.