Atmos Remix of 'Kind of Blue' to Premiere in Munich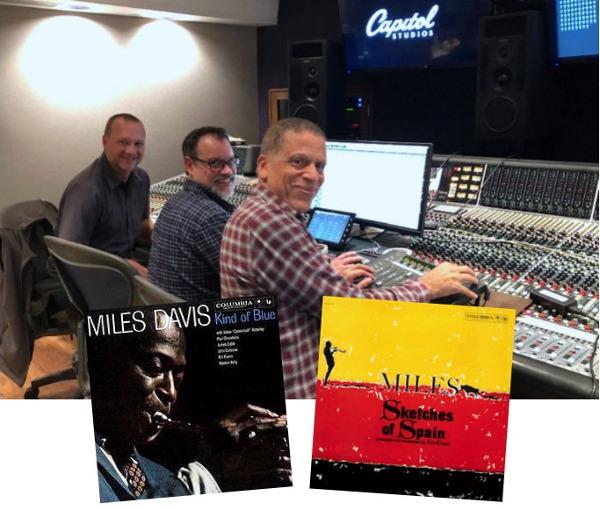 The classic Miles Davis albums Kind of Blue and Sketches of Spain have been remixed in Dolby Atmos at Capitol Studios in Los Angeles under a special arrangement between the Miles Davis estate and UK-based PMC, maker of high-end consumer speakers and professional studio monitors.
PMC will premiere remixes of the historic recordings at High End Munich 2019 in Germany, which runs May 9 through 12. Released by Columbia Records in 1959, Kind of Blue is one of the best-selling jazz album of all time and widely considered the greatest jazz record. Sketches of Spain was released in 1960 and won the 1961 Grammy Award for Best Original Jazz Composition.
Working with the Miles Davis estate, the Atmos remixes were done by PMC USA's Maurice Patist, Grammy-winning engineer David Rideau, and senior engineer Steve Genewick, both from Capitol Studios. Genewick is a leading authority on mixing music in the Dolby Atmos format.
"A few years back David and I worked together on a presentation of Sketches of Spain in 5.1," Patist said. "The Miles Davis family was very happy with the results, so I went to them and said how about a Dolby Atmos mix for Kind of Blue and Sketches of Spain? We were delighted when they said yes and arranged for the original master tapes to be retrieved from Sony's Legacy Recordings for us to work with."
The Davis family and Sony executives were so impressed with the remixes that they granted PMC exclusive permission to share them with attendees of the High End Munich show. The world premiere will be attended by Erin Davis, the son of Miles, and his drummer and nephew, Vince Wilburn, who manage the Miles Davis estate with Cheryl Davis, daughter of the late trumpeter.
Rideau, Genewick, and Patist, who is credited as engineer and producer of remixed album, will also attend the premiere with representatives from Dolby.
The albums will be played over a PMC speaker system that mimics the one recently installed in Capitol Studios' famous Studio C. A pair of PMC's flagship fenestria towers will be complemented by an array of its Wafer on-wall speakers for the surround and height channels and a selection of professional subwoofers.
Details of when the remixed Kind of Blue and Sketches of Spain albums will be released to the public was not available.
"This unique event represents the debut of what can be achieved through the sympathetic understanding of the artist and their art," said PMC founder Peter Thomas. "Everyone at PMC is passionate about the authenticity of music reproduction and our close relationship with the artists and studios enables us to do justice to the creative results the artist set out to achieve."
During High End Munich, PMC will also present select tracks from Grammy Award-winning saxophonist Jane Ira Bloom's album Above and Beyond, which was mixed for the event by Grammy winning engineers, Jim and Ulrike Anderson. All three will be in attendance at the show.