Atlantic Technology System 4200 Home Theater Speakers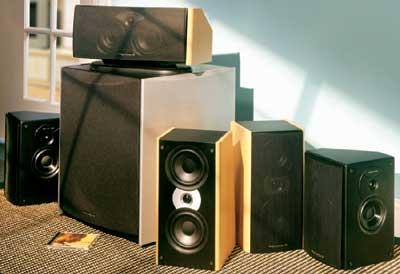 High-tech wonders like the DVD and Dolby Digital get much of the credit, but the home theater revolution owes just as much to a more mundane development: compact, affordable subwoofer/ satellite speaker systems. Indeed, sub/sat arrays with six, seven, and even eight speakers are now the home theater standard, found in "normal" homes as often as in those of over-the-top A/V enthusiasts.
Boston's Atlantic Technology can probably take as much credit as any manufacturer for furthering this trend. From its inception 15 years ago, all of its speaker systems have been sub/sat arrays. As home theater sound has evolved, Atlantic Tech's offerings have grown ever more sophisticated. Case in point is its new System 4200, a THX Select-certified suite of compact satellites and a not-so-compact subwoofer. THX certification is a sort of Good Housekeeping seal that guarantees the system has dispersion characteristics considered by Lucasfilm to be optimum for home theater playback.

The 4200 array is clearly descended from previous Atlantic Technology speakers, but its manufacturer claims several important distinctions for it beyond the new slanted-back cabinets. First, the drivers are said to be the same ones used in Atlantic Tech's $17,000 flagship System 8200.
Second, the System 4200 features C.O.R.E. (Custom Optimized Room Enhanced) technology to make it unusually adaptable to system conditions and room acoustics. The three front speakers have both a Boundary Compensation switch (to smooth out the sound if they're installed close to a wall or a big TV screen) and a three-position treble adjustment. The surround speakers can be switched between dipole and bipole operation via toggles under the metal-screen grilles, which attach to curiously strong magnets in the four corners. Niftoid!
The metal grilles on all the satellites are also a dramatic visual improvement over the boring black knit on many previous Atlantic Technology speakers. But the most obvious innovation is the removable decorative side panels, which bring cellphone fashion thinking to home theater. With the front speakers and subwoofer, you can choose between gloss black, maple, or matte silver. Snapping panels in place was a cinch, and they looked great.