The Assassin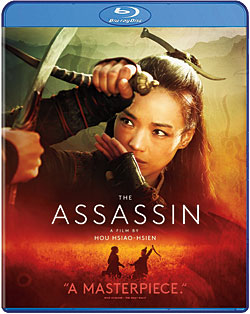 The opening prologue sequences show great contrast with the assassin in deepest black outfit, beside her a nun in white robes, with trees and grass around them a beautiful, wide range of grays. Bark and leaves are intricately delineated, as are delicate patterns in costumes and drapes. Then the picture fades to black and comes back in color, but everything is just as well defined and detailed. Contrast is every bit as good, with richly colored textiles and furnishings or subtle ranges of monotones. There's volume to sharp, in-depth, painterly compositions and roundness to figures. Shot on film, the aspect ratio is mostly 1.41:1 with slight variations at times, one scene briefly even opening up to 1.85:1. Why, I don't know, but that and the change to color startle and keep you alert in an elegiacally mesmerizing meditation.
The lush, formal visuals and rapid action moments are accompanied by an immersion in silence, wind through trees, or an orchestra of cicadas and birds. Although in constant engagement, the surrounds are only fully used in one musical sequence, but the instruments there are well separated into all channels and are clear and full with wide dynamic range. A big, bassy drum is frequently played outside the compound, the boom coming from front left and echoing in right surround, but when the camera moves to another room, the drumming now comes from center. The effect helps establish spatiality but also creates tension as Lord Tian cannot escape his fate that's literally hiding in the wings, following him like the beat.
Four three-minute behind-the-scenes featurettes are interesting, but this extraordinary masterwork deserves more.
Blu-Ray
Studio: Well Go USA, 2015
Aspect Ratio: 1.41:1
Audio: DTS-HD Master Audio 5.1 (Mandarin)
Length: 105 mins.
MPAA Rating: NR
Director: Hsiao-Hsien Hou
Starring: Qi Shu, Chen Chang, Satoshi Tsumabuki
In 8th century China, the Tang dynasty, in decline, had built garrisons at the frontiers of its empire, but a hundred years later, some of those militarized provinces chose independence from the emperor. Weibo is the strongest, so a lovely assassin is sent to kill the head of its clan, Lord Tian. Made by Taiwanese writer-director Hsiao-Hsien Hou, The Assassin's gorgeous, static imagery and characters, glacially slow-moving camera, and mood-filled silences are matched by the mysteries of the story that are only very gradually revealed, all of which evoke the poetic films of the great Andrei Tarkovsky. And then, without any warning, the violence of martial-arts action suddenly bursts in with thrillingly choreographed fights and then as suddenly ceases, returning all to stillness and peace.