Asbury Park: Reborn in the U.S.A.?
Greetings, indeed! The summer may be over, but with all of the anticipation brewing over the October 2 release (less than three weeks away!) of Bruce Springsteen's Magic, his new album with the E Street Band (see my posts below), it's a good time to reflect on exactly where Asbury Park is right now. What I mean is: Decades after its glory days and having hit rock bottom, is the New Jersey seaside resort ready to become . . . well, a resort again?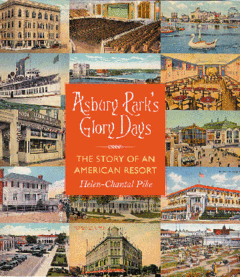 I started mulling all of this over when I came across Helen-Chantal Pike's book Asbury Park's Glory Days: The Story of an American Resort (Rivergate/Rutgers University Press). It's a pleasant read that brings back many memories, helped by a veritable treasure trove of vintage photographs. The entire story is told: from heyday to doomsday, from politics to saltwater taffy, with the book divided into chapters that are loosely devoted to topics like "The Avenues," "The Society," "Downtown," "The Beach, the Boardwalk, and the Palace," and of course, "The Entertainment Circuits."
I say "of course" because, as a teenager in the 1970s, I spent many (mostly summer) nights in Asbury Park seeing concerts at venues like Convention Hall, the Paramount Theatre, and the Casino Arena. All three are well covered in Pike's book, from construction to (in the case of the Casino) demolition. Also making appearances: the Sunshine In, the Fast Lane, and (natch) the Stone Pony.
As Pike recounts, Asbury's connection to entertainment goes as far back as 1895 - the year that Bud Abbott (yes, of Abbott & Costello) was born there. And long before the days of Springsteen, Count Basie played the State Ballroom in the 1940s, Little Richard played Cuba's Spanish Tavern in the '50s, and Dick Clark's Caravan of Stars (Frankie Avalon, Connie Francis, Fabian, the Supremes) played Convention Hall in the '60s.
Motivated by all this fine musical lore in Pike's book, I grabbed one of my own teenagers (Tony the photographer) and went back to Asbury one day recently to see how things are getting along, musically speaking. First up, in honor of the coming Magic: some Springsteen landmarks.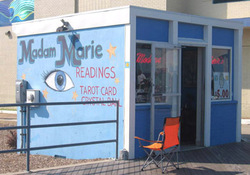 "Well, the cops finally busted Madame Marie for tellin' fortunes better than they do."
Yes, she's still there. Of course, "she" may not be the original Madame Marie (note new spelling: Madam) - or maybe she is. I didn't think about asking until we'd left for the day. So much for intrepid reporter Ken Richardson! (Intrepid photographer Tony Richardson aced the photo, though.)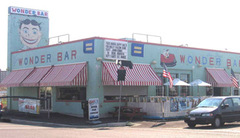 "And you can see 'em dressed like stars in all the cheap little seashore bars . . ."
Well, the Wonder Bar may take umbrage at being called cheap (after all, it even has a Web site) - but it's still a little seashore spot, right on the Circuit and right across the street from the beach. The marquee here, by the way, includes these blast-from-Asbury-past names: Billy Falcon, John Eddie, and Gary U.S. Bonds. That smiling image of Tillie, however, is a copy. For the real thing, you have to go to Palace Amusements . . .
"Beyond the Palace, hemi-powered drones scream down the boulevard."
Oops! The Palace is posthumous! Yes, it was torn down 3 years ago, as Pike heart-wrenchingly recounts in her Epilogue. However, you can go to savetillie.com to see that the image of Tillie was in fact saved.
Sigh, another vacant lot. Which brings me to my early days of concert-going. You see, as a little kid, I used to go to the Palace and ride the carousel. But later, as a teenager, I started going to Asbury venues in earnest to see . . . whoever I could. The vacant lot here used to be the site of the Sunshine In. Optimistic name! Looking back on that former gas-station garage, I'd call it the Deathtrap In. Really, it's a miracle that at one show or another, we didn't all perish like so many of those unfortunate souls at the Station in Rhode Island. However, I saw some near-miraculous shows at the Sunshine In: my first look at the J. Geils Band (November 1972, mere months after the release of Full House) and, just as thrilling, my first rock & ravings with Slade (May and October 1973).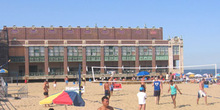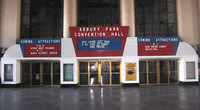 Ah, but here's the place where the major action was: Convention Hall. Starting with Mountain on the 4th of July 1971, I saw dozens of shows there. And yes, it's still standing, waiting for its own full-fledged revival.
I remember the Hall's first rock promoter, our beloved Moe Septee, selling tickets himself on opening day each summer from the tiny box office just inside the rightmost golden door. He'd announce shows himself, too, from the stage. (Moe died on April 1, 1997. R.I.P. Actually, R.I.R&R, Moe!) That tradition of self-announcements was carried on by the promoter who succeeded Moe at the Hall, John Scher - who had already made his name at the (now) late, lamented Capitol Theatre in Passaic, upstate. John would go on to become a big-time New York City promoter, running Metropolitan Talent. I wonder if he remembers reading from those hand-written concert calendars . . .
Anyway, I digress. What I remember most about Convention Hall, of course, was the concerts. Among my personal highlights:
First, there were the classic 1970s acts: Black Sabbath (July 1971, one month before the release of Master of Reality, with a rail-thin Ozzy), Humble Pie (July 1972), Poco (August 1973 - the real Poco, still with Richie Furay), Foghat (August 1974), Robin Trower (May 1975), Harry Chapin (August 1975).
Then came the punk/New Wave revolution: the Patti Smith Group and the Ramones (yes, together on the same bill, August 1978), Blondie (July 1979), Talking Heads and the B-52's (together, too, August 1979).

There were many more. But those double bills remind me of some other twofers I got: Poco (post-Richie) and Peter Frampton (July 1974, 2 years before the latter came alive), the Electric Light Orchestra and Triumvirat (July 1975), Hot Tuna and Dan Fogelberg (July 1975), ZZ Top and Slade (August 1975 - how's that for a crazy double bill?), and on August 16, 1977, the day Elvis Presley died, Heart (touring for Little Queen) and Derringer, both of whom paid tribute to the King.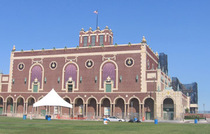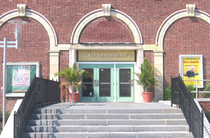 The back of what's considered to be the Convention Hall complex is actually the Paramount Theatre. Fewer shows were staged there, but I saw two good ones: Bonnie Raitt (August 1978 - 11 years before Nick of Time, ahem) and the Joe Jackson Band (September 1979).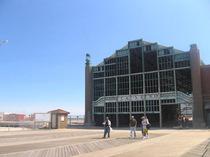 At the other end of the boardwalk was the Casino Arena. Yes, was. It had deteriorated so badly that it had to be torn down. So, even though you see the word "Casino" in the photos here, that's just the breezeway between what used to be an arcade and carousel on the right and the actual Casino on the left. That big blue-sky hole in the first photo is where the arena used to be.
And speaking of amazing double bills, how's this one at the Casino: Renaissance and Linda Ronstadt (July 1974, before the release of Linda's Heart Like a Wheel). Then there was Mountain and Rush. This was August 1974 - Rush's first U.S. tour, 5 months after the release of the band's debut album and mere weeks after John Rutsey was replaced by Neil Peart. What a show.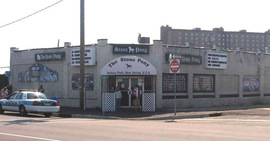 Then there's this place. Perhaps you've heard of it. Major rock-critic confession: I have never once stepped foot inside the Stone Pony. That's right, I missed the entire Springsteen-in-development period. What can I say? Maybe it had something to do with the fact that I hadn't yet become of (drinking) age. (Other things I missed in Asbury: Yes at Convention Hall in 1972, and King Crimson at the Casino in 1974 - most of which made up the subsequent live album, USA. Oh well.) Anyway, the place is still open - for the time being. (Robert Randolph was playing the day that my son and I went to Asbury.) It's unlikely, however, that it will be able to stay, once the surrounding redevelopment gets cranked up a notch.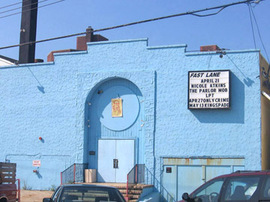 Instead of the Stone Pony, here's the place I used to go clubbing when I did become of age: The Fast Lane. And I may not have seen Bruce at the Pony, but I'm proud to say that my own bro' jammed with some E Street Band-members here. (Don't recall which members.)
That was when the club was called the Warehouse; I saw both Slade and Derringer there in June 1976. When it became the Fast Lane, I would go on to see the Shirts (numerous times, beginning in August 1979), the Greg Kihn Band (May 1980), the League of Gentlemen (June 1980, and oooo, that was a rare one: Robert Fripp, ex-XTC keyboardist Barry Andrews, bassist Sara Lee, and drummer Johnny Too Bad), and Rachel Sweet (July 1980). By the way, opening both the Sweet and Kihn shows was a struggling bar band called the Rest, whose lead singer was John Bongiovi - yes, Jon Bon Jovi. And what did I predict for him back then? See my Bon Jovi post below to find out.
The day that my son took that photo above, there was a padlock on the door. Has the Fast Lane finally lost its lease? Dunno, but note the marquee entry for April 21 (which April?): Nicole Atkins. Yes, the same Nicole Atkins who's currently starring in that TV commercial for American Express. Her debut album, Neptune City (Columbia), originally scheduled for July 24, will now be released October 30.
That album title is actually Nicole's birthplace - right next to Asbury Park. And this is an appropriate point to quote from her bio:
"The shores of New Jersey are littered, quite literally, with small towns whose better days are far in the past. They're towns that have been written about, and sung over; towns that have been mythologized and idealized; and they are the towns that 28-year-old musician Nicole Atkins - a native of Neptune City, located a stone's throw from fabled Asbury Park - was born and raised in. They can be places steeped in their own history, buried under the sense of their own pasts. Places of heydays and what-once-was. And it's that sense of something lost, and of what perhaps should have been, and what might be, that permeates Atkins's debut, Neptune City.
" 'Neptune City is just this old place,' Nicole says. 'There was this glory time, way back when, that I never experienced, but that you cannot escape if you live there. Everyone talks about it. They almost yearn for it, but I never experienced it. So maybe this album is my attempt to build something new on top of all that.' . . .
"In the end, Neptune City comes across as a restoration project, in a way - an attempt to build something new on something old. There's an acute subtlety to the art of restoration. Do it wrong, and you're simply cribbing the past. Do it right, and you're actually, in a profound way, carrying it forward into today. And that's what Neptune City accomplishes. It brings its past with it, carries its heart on its sleeve, and strides hopefully into a better day it can hardly imagine, but hopes will be there nonetheless."
Which brings me back to Asbury Park. When I saw my final show there - That Petrol Emotion in 1990 at the Fast Lane - Asbury looked like a bombed-out Beirut. Pike describes the decline vividly in Asbury Park's Glory Days. And she ends her book with Matt Lauer interviewing Springsteen on location for the Today show on the release of The Rising in 2002. "Nostalgic memories of the days that once were and dreams of what they might be once again were everywhere."
And I'm happy to say that, when my son and I visited Asbury for the photos you've seen here, there were people on the beach. And on the boardwalk. And in the arcade. Then, when I took my whole family there on Labor Day weekend, the place was damn near semi-hopping. Businesses are reopening. The restoration, at long last, is indeed happening. After all, when was the last time anyone could say, "I took my whole family there on Labor Day weekend"?
The old "glory days" may be gone, but compared with the recent past, a better day is already here - which gives us hope for new glory days. And considering all the music that has filled Asbury Park in the past, here's hoping that music will again fill everything from the cheap little seashore bars to the great Convention Hall.
On that note, I leave you with one final snapshot. Self-explanatory.
-Ken Richardson (with thanks to Tony Richardson for the photography)
LATEST VIDEO