AR/VR Poised for Record Growth in 2018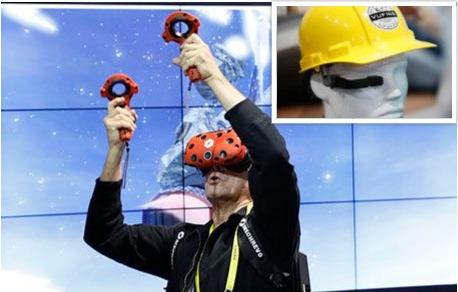 Augmented reality (AR) and virtual reality (VR) technologies are poised for record growth in 2018, according to new research from the Consumer Technology Association (CTA).
Projections outlined in CTA's "U.S. Consumer Technology Sales and Forecasts" put 2018 sales of AR/VR headsets and eyewear at 4.9 million in the U.S., an increase of more than 25 percent over 2017 and a 10 percent increase in revenue, which is pegged at $1.2 billion.
The CTA said sales of consumer-focused AR eyewear, in particular, is expected to accelerate considerably over the next five years.
A testament to the impending growth, the AR/VR sector consumed record levels of exhibit space at last week's CES 2018. The Augmented Reality Marketplace occupied 10,900 net square feet, up 10 percent over 2017, and the Gaming & Virtual Reality Marketplace filled more space than ever before, hitting 34,100 square feet, up 18 percent over 2017.
Last year, CTA's AR/VR Working Group approved industry definitions to help companies explain to consumers the broad range of technologies and experiences available, including:
• Augmented Reality (AR) – overlaying digitally-created content into the user's real-world environment
• Mixed Reality (MR) – An experience that seamlessly blends the user's real-world environment and digitally-created content, where both environments can coexist and interact with one another
• Virtual Reality (VR) – Creates a digital environment that replaces the user's real-world environment
Additionally, CTA's AR/VR Working Group under the association's Technology & Standards Program — accredited by the American National Standards Institute — will soon complete its work on technical definitions covering a broad spectrum of the AR/VR industry. The definitions will provide support for future projects and address best practices for the consumer experience.
"It's up to us in the industry to help consumers understand all the technology and content available right now in the AR/VR/MR space," said Mark Turner, vice president at Technicolor and chairman of CTA's AR/VR Working Group. "The investments we're seeing in these immersive technologies, coupled with other innovations — like wearables and voice search — point to an exciting future of truly pervasive personal computing. A future where your physical environment can morph between being your digital workplace and your digital fun place."