Arcam AVR750 AV Receiver
PRICE
$6,000
AT A GLANCE
Plus
Rail-switching amplifiers
Muscular dynamics
Smooth, not sizzly
Minus
Extra-cost wireless
Vertigo-inducing price
THE VERDICT
This British audiophile receiver is steeply priced but worth every ha'penny, and its rail-switching amplifier is among the best there is.
The Arcam AVR600 blew my socks off when I reviewed it in 2009. I'll discuss how it sounded later&mdashbut for the moment, I want to tell you how it made me feel:: pleased, then surprised, then amazed, grateful, stimulated, intrigued, and determined to play as much of my music library as time would permit before the review sample was pried out of my covetous hands. Only the price kept me from adopting it as my new reference receiver. But just because I have to live within fiscal limits doesn't mean you should. I want you to have as much fun as you can afford.
Anyway, it's no exaggeration to say that the AVR600's replacement by the AVR750 is a special occasion. One of the greatest-ever surround receivers is passing the torch. So how does the new guy measure up? And what makes these receivers so special? It's more than just the British accent.
Cutting to the Chase
Amplifier topology: That's what it comes down to. The 600 and the 750 both use Class G rail-switching amplification that employs two sets of output devices operating at different rail voltages. When the signal becomes demanding enough, the amp briefly switches to the higher-voltage rails. That enables it to pump out more power when the going gets tough without overheating. But it also lets the receiver conserve power when the going is easy because most program content only requires that the lower voltage rails be active. The end results are wide dynamics and an evenness of tone that will make movie and music lovers swoon.
The AVR750 is rated to deliver 100 watts into seven channels simultaneously. Lots of receivers are rated at 100 watts but virtually none into seven channels all driven, a much more ambitious task than the typically quoted two-channel spec. See the Test Bench for our independent assessment. Arcam says the receiver can handle impedances down to 4 ohms with ease and even 2 ohms under the right circumstances.
Beneath the distinctive green display is an austere row of buttons handling the basic functions. The two at far right are the volume up/down keys, in lieu of the knob you'd expect, and I continue to regard their lack of prominence as a design flaw. Arcam has improved the remote, however, with buttons slightly differentiated by shape and color, though once again the volume keys are too well camouflaged.
An ArcamRemote app is available for iPad, and an Android version is being mulled over; Arcam's high-end clientele are probably more likely to use AMX, Control4, or Crestron, anyway. There's also a separate Songbook app that accesses music from networked computers, USB-connected iOS devices and drives, and Internet radio.
On the back panel, the old column layout has given way to a more conventional one. Component video is down from five inputs to three, and there's no longer a component output. Composite video, digital audio, and analog audio are similarly reduced (not likely a problem) and S-video eliminated (good riddance). The phono input is gone, and the number of subwoofer outputs has shrunk from three to one. The 7.1-channel preamp outputs are no longer joined by multichannel inputs, so you can't use the receiver's estimable amp section with a separate pre/pro. Why the draconian housecleaning? The company says it has adapted to current consumer habits.
Bluetooth and AirPlay aren't built in; Arcam gets what I call the Audiophile Exemption on that. But a 6-volt port on the back panel does accommodate the Arcam rBlink Bluetooth/DAC adapter (as well as the company's rLink wired DAC), and Arcam offers the standalone airDAC for AirPlay (which powers up with its own 12-volt supply). For everyday streaming, there's an Ethernet jack that enables integrated vTuner Internet radio and the DLNA protocol to access media from network-connected computers and app-equipped phones. (Other Arcam add-ons include the irDAC for USB, rLink for SPDIF, and drDock for iOS docking devices.)
Arcam's Auto Speaker Setup is proprietary. The manual suggests that you experiment before deciding to use it. The default position for room correction is off, so you must switch it on for each input, a process made easier by a dedicated remote button. Also onboard is Dolby Volume, which provides volume leveling among different source components and can also adjust the dynamic range to make movie soundtracks more palatable.
Associated equipment for this review included five Paradigm Reference Studio 20 v.4 speakers and a Seismic 110 subwoofer. A Lenovo Win 7 PC fed high-rez files through a Meridian Direct USB DAC. All movie demos were on Blu-ray Disc.
Arcam sent along one of its BDP300 Blu-ray players with the receiver, which I used to supplement my reference Blu-ray player, an Oppo BDP-83SE. Oddly, whenever I inserted a new disc, the combination of Arcam receiver and Oppo player resulted in blank screen flashing (black, white, black, white) before the studio logo and promos. This occurred with all Blu-rays and some DVDs. The Arcam receiver had no such problem with either the Arcam player or my alternate player, a Panasonic DMP-BD87.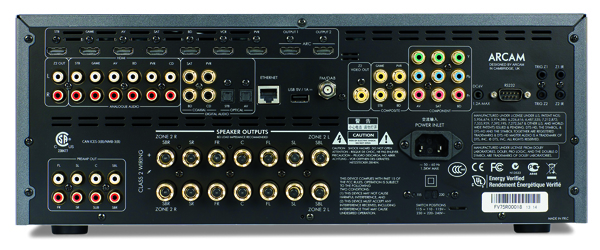 I'm guessing this was probably an HDMI handshake problem. The Oppo, dating from 2009, uses the older HDMI 1.3, whereas the newer products all use variations of 1.4 (1.4b for the Arcam receiver, 1.4a for the Arcam player, and 1.4 for the Panasonic player). In no case did a disc fail to load altogether, and all the main audio/video content played glitch-free. If you're a stickler for presentation, pair this receiver with a recent Blu-ray model with HDMI 1.4 or a later version.