Apollo 13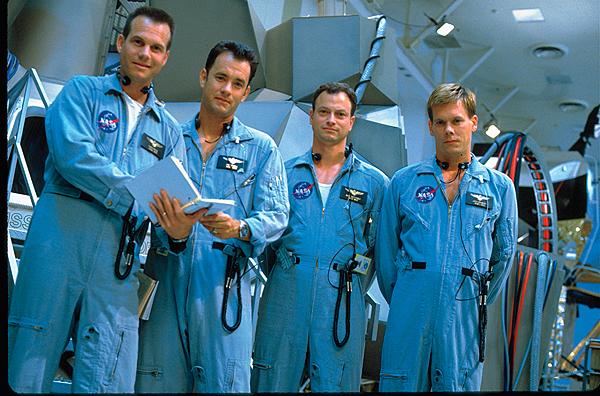 Apollo 13 launched on April 11, 1970, to a world unconcerned. Manned space flights were routine and no longer covered on TV. It wasn't until a fateful explosion left the crew potentially stranded in space that anyone cared about the mission and its three-man crew. Ron Howard's 1995 historical docudrama about the ill-fated mission won two Oscars for its taut editing and its brilliant sound design. Tom Hanks' portrayal of Jim Lovell catapulted him into the stratosphere as a serious dramatic actor, and Bill Paxton also put in one of the strongest performances of his career as Fred Haise.
Apollo 13 was restored in 4K from the original 35mm film elements and digitally remastered on Blu-ray in an AVC 1080p transfer. The results are magnificent, with superb contrast, a fine grain structure, and only the slightest hints of softness from a combination of the vintage and production choices. Colors look natural, especially fleshtones, which are spot-on. The blacks of space are deep, and whites of the astronauts' space suits are bright without clipping. The film's archival news broadcasts don't reach the same quality, but not because of the transfer.
Apollo 13's sound mix is brought home in DTS-HD Master Audio 5.1. The dynamic range is staggering, from the silent vacuum of space to the low din of ground control to the booming rumbles of rockets firing. The low end will rattle the floorboards, but it never gets too unwieldy. Occasional directional panning of solid effects into the surround channels makes the mix engulfing, and dialogue is crystal-clear and full throughout the film. The initial Apollo 13 launch sequence is the showcase audio segment. It rumbles with authority and sends sounds into every channel.
The main event for the extras is the new "Apollo 13: Twenty Years Later," which offers up reflections from director Ron Howard and producer Brian Grazer on the production. Other supplements are two commentaries, one with Ron Howard and one with Jim and Marilyn Lovell; "Lost Moon: The Triumph of Apollo 13," a classic featurette with Howard; and two classic documentaries on the Apollo missions. Rounding out the extras are the theatrical trailer and Universal's U-Control allowing viewers to use an app to access interactive features during the film. Digital HD for iTunes and UltraViolet are also included.
Blu-Ray
Studio: Universal, 1995
Aspect Ratio: 2.35:1
Audio Format: DTS-HD Master Audio 5.1
Length: 140 mins.
MPAA Rating: PG
Director: Ron Howard
Starring: Tom Hanks, Bill Paxton, Kevin Bacon