Aperion Intimus 5T-DB Hybrid HD Speaker System Real-World Performance
Real-World Performance
My auditions started with the visceral rush supplied by
Spider-Man 3
on Blu-ray. Each speaker in the Intimus 5T-DB Hybrid HD system may be comparatively small, but I quickly determined they have the combined gravitas of a much larger and more expensive system.
I was consistently impressed by the way the five speakers developed a vast, wrap-around soundstage. For example, when the Sandman is pulverized within a scientific experiment, the texture of the sand grains was palpable, which added immensely to the emotional pull of the onscreen action. It wasn't just the 5DB surround speakers—the entire system's first-rate integration was responsible for maintaining the illusion.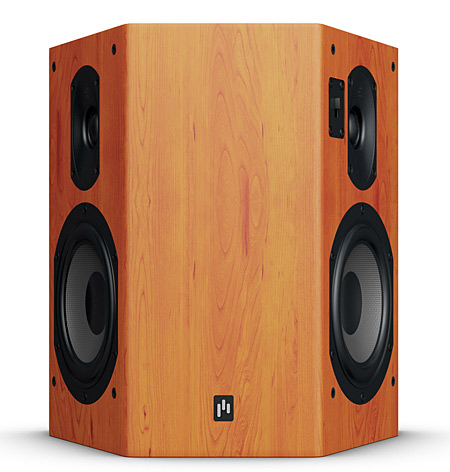 The film's freewheeling dynamic assaults, such as the scene in which a New York City construction-crane operator loses control of his rig and a steel girder smashes into a skyscraper, was reproduced without strain or audible distortion. The violent whoosh of steel, concrete, and glass hurtling down onto the city streets was handled with aplomb. The Bravus 10D's low-end grunt was never in doubt.
Next up, the Legends: Live at Montreux 1997 Blu-ray with Eric Clapton, Marcus Miller, Joe Sample, and David Sanborn. The band played as a group of equals, and right off the bat I was hooked on Marcus Miller's fat-sounding yet perfectly agile bass. The disc's high-resolution sonics really brought out Joe Sample's acoustic piano. It had the sort of weight and lively transient attack to be entirely convincing. Clapton's stinging fretwork was crisply delineated—heck, the entire DTS-HD Master Audio track sounded very right to me.
Without the center and surrounds, a cappella vocal group Take 6's new CD, The Standard, put the 5T's midrange talents front and center. Each voice had a three-dimensional presence, the tonal balance was honey-sweet, and even with the Bravus 10D turned off, the slender towers' sounded brawnier than they really are. The stereo soundstage was wide and deep.
I switched back to the complete Aperion ensemble using Dolby Pro Logic IIx to get a taste of Ben Kweller's stripped-down, free-spirited rock-and-roll CD, On My Way. Kweller was only 22 when he recorded this music, but he was plenty sure of himself, and with the Intimus 5T-DB Hybrid HD system cranked up to a healthy volume, I was up off the couch, dancing around my home theater, swept away by Kweller's jangly guitars and heartfelt tunes. Rock on!