Aperion Intimus 5T-DB Hybrid HD Speaker System
I've reviewed hundreds of speakers, and back when I was selling high-end audio, I auditioned many hundreds more. Summing up those experiences, here's what I've learned: They all sound different, but some sound more "right" than others.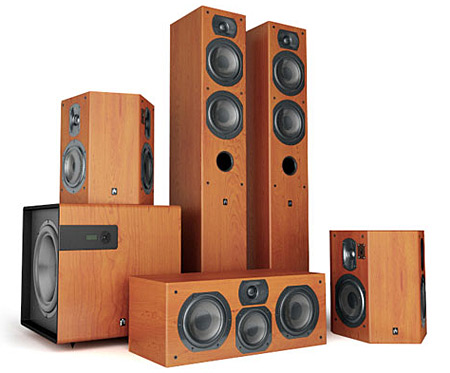 Aperion speakers have always been a terrific value, but the sound of some earlier models didn't quite jell for me. Then, last year, something kicked in and the sound came together. The 5T-DB Hybrid HD is not only the best Aperion system I've heard to date, it also sounds "right."
Please understand, "right" isn't quite the same thing as "better"—it's more of a fundamental, everything's-in-balance quality. Some excellent speakers provide a wealth of detail and resolution, but they don't sound at all natural. I've reviewed lots of speakers that could rock out, image well, and deliver seriously potent bass, and yet the sound still didn't hold together.

"Right" connotes an even-tempered balance that doesn't call attention to itself and is likely to wear well over the years. The Aperion Intimus 5T-DB Hybrid HD should do just that.
Features
The Intimus 5T-DB Hybrid HD is a six-piece system featuring a pair of 5T towers, a 5C center speaker, a pair of 5DB dipole/bipole surround speakers, and a remote-controlled subwoofer, the Bravus 10D. The speakers don't look all that different than previous generations of Aperions, but as they say, the devil is in the details.
Finish choices are limited to a scrumptious real cherry-wood veneer and a classy high-gloss piano-black lacquer. Both are exceptional in appearance and quality; I've reviewed far more expensive speakers that pale in comparison.
Speaking of quality, all of the Intimus 5T-DB Hybrid HD's cabinets are fabricated from 1-inch thick high-density fiberboard. Rap your knuckles on these babies and you'll literally feel the difference compared to the nearly ubiquitous 0.75-inch medium-density enclosures of the competition's speakers. Methinks the extra solidity of the 1-inch HDF is at least partially responsible for Aperion's low-coloration sonics.
The 5T tower and 5DB dipole/bipole speakers share the same newly designed 5.25-inch woven-fiberglass woofer and 1-inch silk-dome tweeter. The 5T is a 2-way design in which both woofers cover the same frequency range. This is a change from the previous version of this speaker, which was 2.5-way with one woofer operating as a quasi-midrange driver and the other reproducing bass only. Aperion found that the new woofer worked better in a straight 2-way configuration.
The slender tower is shipped pre-mounted on a pedestal base. A set of adjustable brass spiked feet and floor-protecting discs are supplied with the speakers.
Center speakers in the Aperion 5C's price class are typically 2-way, woofer-tweeter-woofer affairs, which can sometimes produce uneven lateral dispersion. Ergo, listeners seated on the right and left side of a wide couch may hear a slightly different tonal balance than centrally located listeners. So I am pleased to note the 5C is a bona-fide 3-way design. The vertically oriented 1-inch tweeter/4-inch midrange pair produces a wider "sweet spot." It's also interesting that only one of the two flanking woofers is active—the other one works as a passive radiator to help maintain the 5C's wide lateral dispersion. Listening to pink noise as I moved across my couch confirmed this.
The wedge-shaped 5DB surround speaker is one of the smallest dipole/bipole speakers on the market. It has a 1-inch tweeter and 5.25-inch woofer on each of its two baffles. The drivers project sound in-phase when set to "bipole" and out-of-phase for "dipole." Either way, the 5DBs produce a diffuse, room-filling sound. A front-mounted switch makes it easy to experiment with bipole or dipole operation—I preferred dipole because it filled my room better.
The 5DB's back panel is notched out to provide a path for the cable when the speaker is wall-mounted, for which a sturdy bracket is included. Which reminds me, all the speakers feature metal binding posts that work with bare wire, spades, or banana plugs.
The Bravus 10D acoustic-suspension subwoofer has a 10-inch aluminum woofer on each side of its cabinet and a built-in 300-watt amplifier. It also comes with a small "credit-card" style remote that controls volume, mutes the sub, and cycles through the Music, Movie, and Game EQ modes (the Music mode is "flat").
Aperion is so confident that you'll love the 5T-DB Hybrid HD system, it's sold with a 30-day money-back return policy. UPS ground shipping is free, and Aperion doesn't collect sales tax in the continental US.
Feel free to try the Intimus 5T-DB Hybrid HD as I reviewed it—then, if you decide you want the larger Bravus 12D sub, that'll be no problemo. Aperion will pay for the 10D's return shipping, and you'll just pay the difference in price between the two subs. Or if you think the 5T towers make enough bass on their own and you want to ditch the sub altogether, Aperion will refund the price of the sub. There's a one-year trade-up policy for the speakers, so you can upgrade to, say, the larger 6T towers without taking a loss. No matter what, Aperion wants to make you happy.